Capcom's Value Creation

Medium- to Long-Term
Growth Strategy
The Heart of
Value Creation
ESG-Based
Value Creation

Financial Analysis
Relationship with Employees
Promotion of Diversity
Initiatives Aimed at Promoting the Improvement of the Work Environment for Women and Proactively Hiring Non-Japanese
Capcom is currently engaged in initiatives aimed at improving the work environment for women and proactively hiring Non-Japanese.
In terms of providing an environment that facilitates women, we introduced systems enabling women to take a leave of absence before and after giving birth, childcare leave and shortened working hours, and promote their use throughout the Company. In fiscal 2017, 25 employees took childcare leave, six of whom were men, and 100% of eligible women took childcare leave (fiscal 2016: 3 men and 100% of 23 women took leave). A high percentage of women returned to work afterwards: 25 returned in fiscal 2017 — 96.0% if those still on leave are excluded. This is an increase over last fiscal year (95.6%, or 22 women, returned to work in fiscal 2016). As a result, despite it being said that Japan's gaming industry is generally dominated by men, women account for roughly 21% of Capcom's workforce, and 25 (10.3%) of Capcom's managers are women. In accordance with the execution of the Act on Promotion of Women's Participation and Advancement in the Workplace, in 2016 we formulated the General Employer Action Plan, which seeks to achieve two things: (1) having women comprise at least 20% of all of new graduates hired, and (2) having women comprise a least 15% of managers. In recognition of Capcom's efforts toward improving the workplace environment for women, since 2014 we have earned the "Kurumin" mark, the symbol of a "company supporting childcare," from the Ministry of Health, Labour and Welfare.
In terms of the proactive employment of non-Japanese individuals, Capcom is making efforts to strengthen overseas expansion capabilities including creating an English hiring website. We currently employ 107 non-Japanese workers (representing 4.2% of our employees). Going forward, we will create a system for improving motivation in an attempt to increase the ratio of foreign employees, including support for career advancement and the promotion of non-Japanese individuals to management positions.
These measures have contributed to generating new IPs such as Toraware no Paruma.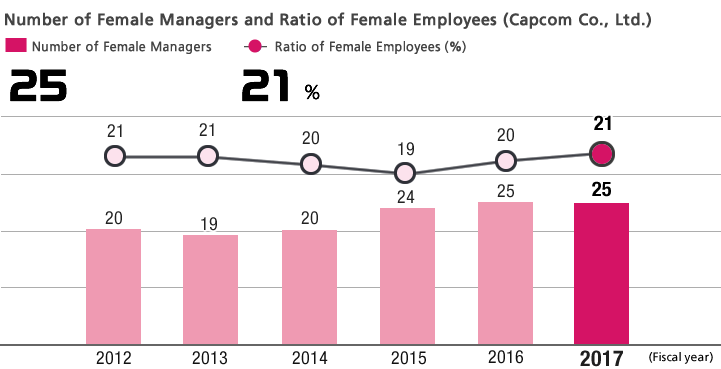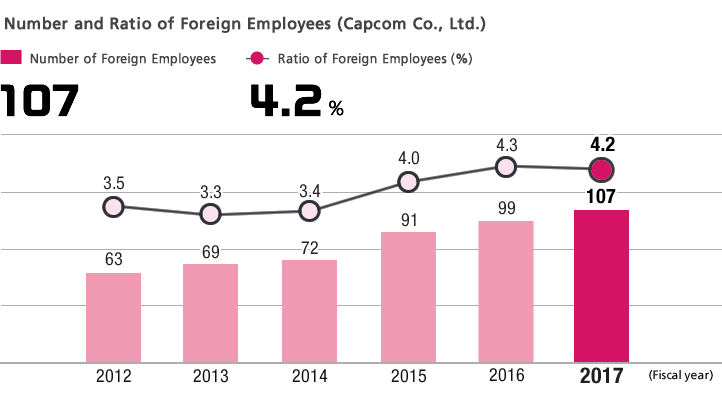 Online Integrated Report 2017
[ESG-based Value Creation] Social – Relationship with Employees
Capcom IR [Developer Interviews 2016]
INTERVIEW 01: Virtual Love in the Palm of Your Hand A Game Developed by Women, for Women
Providing Career Paths for Employees and Improving the Work Environment
Company-Wide Training and Level-Based Training
To provide career paths and improve the work environment, Capcom offers the following training.
Major Training Programs
Level-based training
Grade-based training

Training for new hires
Training for first year of employment
Training for third year of employment
Mentor training

Mid-level

Training for management candidates

Management-level

Management by Objectives (MBO)

Company-wide training
Compulsory

Mental healthcare
Compliance training
Personal information training

Optional
Corporate Governance and CSR
Action Criteria and Compliance-Related Employee Education
The Capcom Code of Conduct calls for "free competition and fair trade," "respect for human rights and individuality and the prohibition of discrimination" and "environmental conservation and protection." To ensure an understanding of these concepts, we created the Capcom Group Code of Conduct Handbook, which is available on the company intranet and contains illustrated case studies in an easily understandable Q&A format.
We also conduct e-learning compliance training and Personal Information Protection Act compliance training for all employees.
Action criteria and compliance are the lynchpin of corporate governance and the foundation of our CSR. Capcom will continue to instill this understanding in all its officers and employees.
Relationship with Customers
For the Healthy Development of Young People
Compliance with the CERO Rating System and Endorsement of Guidelines
The Computer Entertainment Rating Organization (CERO), a Specified Nonprofit Corporation, was created to provide age-appropriate ratings for video games. Capcom complies with the CERO rating system and rules.
The rating system is an initiative for the healthy development of young people that calls for voluntary restrictions on home video game content and sales methods to limit access by young people to sexual or violent content. In addition, recent home video game consoles include a parental control function that enables parents to limit the online purchase and use of certain games according to their ratings.
Guidelines Issued by the Computer Entertainment Suppliers' Association (CESA)
Name of Guideline
Implementation Date
Guidelines for Real Money Trade Measures
April 26, 2017
Guidelines for the Protection of Minors
December 21, 2016
Operating Guidelines for Random Item Distribution in Network Games
April 27, 2016
Guidelines for Advertisements, Etc. in Home Video Game Software Targeting Only Those 18 and Over
April 1, 2008
Revised June 20, 2012
Code of Ethics Concerning Computer Entertainment Software, 2nd Revision
October 1, 2002
Please refer to CESA's website for the content of each set of guidelines
https://www.cesa.or.jp/index_e.html
Relationship with Regional Communities
PDF download
ESG-Based Value Creation

(PDF:3.69MB/24 pages)