Capcom's Value Creation

Medium- to Long-Term
Growth Strategy
The Heart of
Value Creation
ESG-Based
Value Creation

Financial Analysis
Features of Capcom Corporate Governance
Four Features of Capcom Corporate Governance
1
Transition into a Company with an Audit and Supervisory Committee to Strengthen Governance
In June 2016, we transitioned into a company with an audit and supervisory committee. The Audit and Supervisory Committee works so that the internal control system functions effectively, auditing the execution of operations by directors and employees based on auditing policies and, as necessary, submitting items found in audits and giving advice and making suggestions for corrections, etc. Additionally, we have established an Internal Audit Division directly under the control of the Audit and Supervisory Committee to ensure the committee can perform duties smoothly and appropriately. This division has a full-time staff of 18 who help with the execution of operations of the Audit and Supervisory Committee.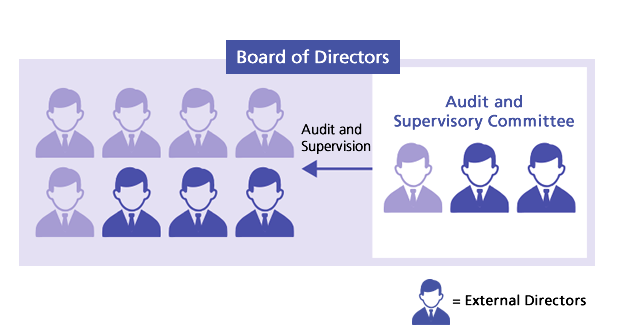 2
Proactive Appointment of External Directors
Capcom's current ratio of external directors is 45.5% through proactively appointing external directors since June 2001. The advice, opinions, and scrutiny provided by external directors increases the transparency and credibility of Board of Directors' meetings and vitalizes the same, while also strengthening the function of the meetings to supervise management.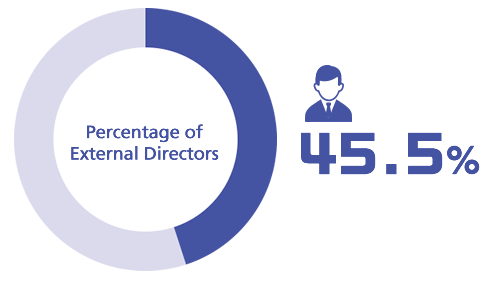 3
Full Disclosure of 73 Corporate Governance Code Items
Capcom has disclosed all 73 of its Corporate Governance Code items in order to fulfil its responsibility to explain each item while reaffirming the current state of the company's governance system contrasted with its ideal state. Capcom attaches particular importance to 26 items, which are comprised of 10 items that contribute to our growth strategy, three items that contribute to our management system and 13 items that serve as the base for achieving these, and provides greater detail concerning the same.
Items which contribute to our growth strategy

Ensure diversity within the Company, including promoting the success of women.
Thorough disclosure of information.
Duties, etc. of the Board of Directors, etc.

Items which contribute to our management system

So-called cross-shareholdings.
Selection and dismissal of key members of management staff.
Quality and standard of determining independence of independent external directors.

Items which serve as a basis for the above

Basic principles for capital policy.
Establishing an environment to support the risk-taking of the Board of Directors.
Role and duties of independent external directors, etc.
4
Mechanism for Reflecting Investor and Analyst Opinions in Management
Capcom's IR Department engages in discussions with analysts and investors over 400 times per year. In addition to promoting understanding of management policies and business strategies, the IR Department applies these activities to corporate management, summarizing market opinions and providing feedback to management personnel. Capcom is also further enhancing events and tools for investors, strengthening shareholder and investor relations activities.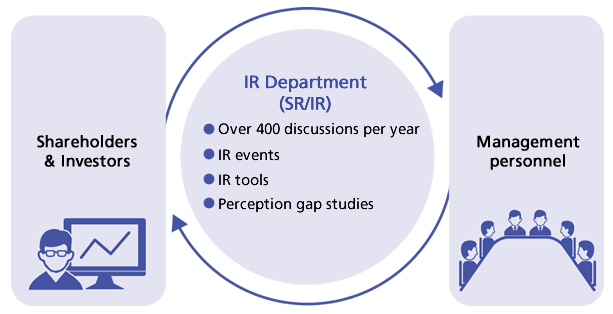 PDF download
ESG-Based Value Creation

(PDF:3.69MB/24 pages)