Capcom's Value Creation

Medium- to Long-Term
Growth Strategy
The Heart of
Value Creation
ESG-Based
Value Creation

Financial Analysis
The Apex of Action Games, DMC is Back!
Devil May Cry 5
Michiteru Okabe
Devil May Cry 5 Senior Producer
After joining Capcom in 2010, worked as an assistant producer on Resident Evil: Operation Raccoon City. Has worked as a producer since Resident Evil Revelations, and is currently working on Devil May Cry 5, the latest title in this series.
Consecutively Million-Selling Stylish Action Games
The hit Devil May Cry series features appealing characters brimming with individuality and stylish action where players seek to dispatch enemies in sleek and showy ways. Since the 2001 launch of the first title, this series created a buzz with its beautiful graphics and exhilarating action, becoming popular worldwide.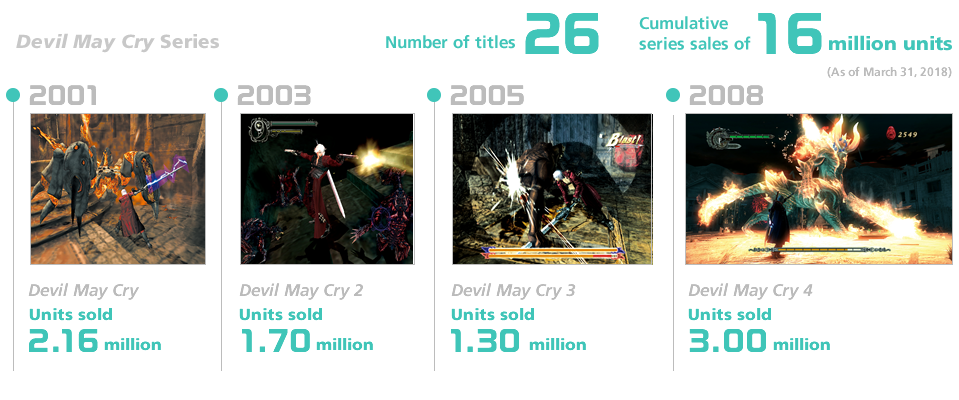 Engaging Characters Featured in Multiple Mediums
The appealing characteristics of the protagonists Dante and Nero, whose veins course with demon blood, as well as the story and the stylish action have won the hearts of droves of fans. Devil May Cry has been adapted into a wide variety of media, including animated television shows, comic books, novels and pachislo machines.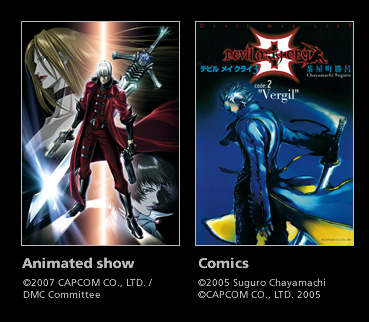 Bringing Back the Devil Hunters to Appeal to the Global Market
"In the beginning, one of the main characters, Nero, loses his right hand. He attaches the Devil Breaker to where his right hand was and sets off to battle the demons!" Devil May Cry 5, the latest title in this series, starts with this scene, which was the idea of the Director, Hideaki Itsuno.
With the help of his new partner, weapons craftswoman Nico, Nero takes down demons one after the other in a way that is not only stylish, but feels good. This "good feeling" is a distinctive feature of the Devil May Cry series. The exhilaration of using guns and swords to stylishly defeat demons, interwoven with the story of main characters Nero and Dante's hidden pasts engrossed fans all over the world, leading the series to become a hit, with cumulative sales of 16 million units.
As this series is immensely popular overseas, we've brought on Matt Walker as well. Matt, who initially began studying Japanese because of Street Fighter, is a producer who has absorbed the Capcom DNA, and now works to push forward our strategy.
This new title was announced at E3, one of the world's largest game expos, held in June.
The announcement coincided with that of Resident Evil 2, the latest Resident Evil title, which is the sister series to Devil May Cry. Both announcements received a standing ovation.
I think announcing both of these titles at E3 conveyed the momentum we have going at Capcom.

Master demon hunter Nero returns

Core meeting (from left) Okabe, Itsuno and Walker
Driving to the Apex of Action Games With the RE ENGINE
The stylishness of this game is what makes it appealing, so it goes without saying that it demands cutting-edge visuals and action.
Our aim was to create a new Devil May Cry legend that satisfies users by incorporating photorealism, which is mainstream overseas, and a sense of speed and exhilaration unlike previous titles. Capcom's technical capabilities make this possible.
Further striving for visual perfection, we cast models in England for the main characters and created real costumes from scratch. After makeup was applied, the fully costumed models were scanned as 3D objects.
For character expressions, we used the latest facial technologies developed by Serbian company 3Lateral. The exhilarating movement of the game uses motion capture, with each individual part combined using Capcom's RE ENGINE to successfully express realistic details in the characters' appearances, expressions and action.
With facial expressions in particular, when voice actors later recorded the lines, they understood the emotions just by looking at the video, lending a realism that could be mistaken for live action. My sense is that we were able to achieve extremely fine quality by combining cutting-edge technology with the development expertise Capcom has accumulated over the years.
The release is scheduled for March 8, 2019. We want to deliver this to the world as the apex of action games—DMC is back! We hope you are excited!

The power of the Devil Breaker

Scanning a British model in pursuit of photorealism
PDF download
The Heart of Value Creation

(PDF:2.17MB/8 pages)