Capcom's Value Creation

Medium- to Long-Term
Growth Strategy
The Heart of
Value Creation
ESG-Based
Value Creation

Financial Analysis
Geared-Up Mega Man Takes Off with New Release During the Series' 30th Anniversary
Kazuhiro Tsuchiya
Mega Man 11 Producer
After joining Capcom in 1992, worked on Mega Man 7 as a programmer. After working as a director, moved on to be a producer, supervising all aspects of the Mega Man Legacy Collection and new Mega Man 11.
Refining the Fun of Action Games In-Step with the Evolution of Game Consoles
Mega Man was launched in 1987 as an action game for the Nintendo Entertainment System. Its distinctive characters and textured game play have won over fans in Japan and around the world, giving rise to numerous sequels and spin-off series. Its popularity has gone beyond games, crossing over into merchandising, animated television shows, comic books and a variety of other media that further garnered attention for the series. The series commemorated its 30th anniversary in 2017.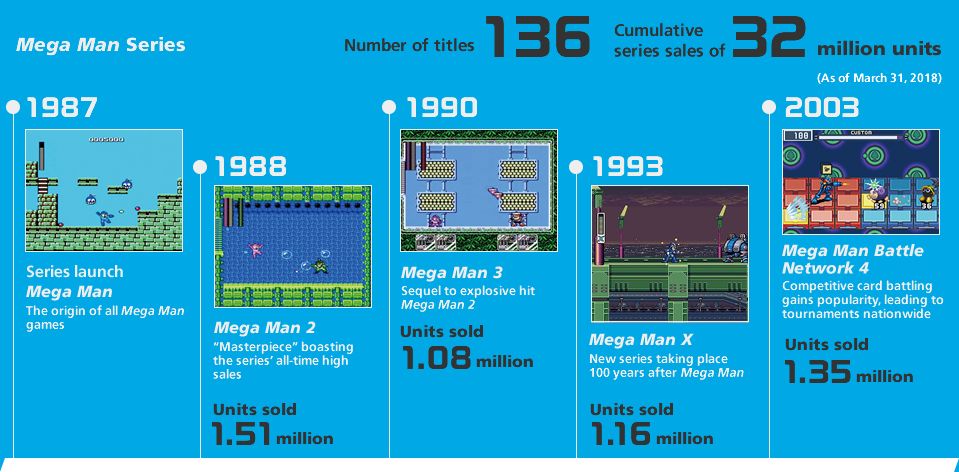 A Beloved Series That Spans Generations
Mega Man, born in 1987 when home video game consoles began to gain popularity, is a one of the best-known 2D side-scrolling action games and has long captured the hearts of fans.
This series has sold a cumulative total of 32 million units, which includes several spin-off titles. 30 years since the launch of the first title, Mega Man continues to be very popular overseas, and we are often asked whether we are going to release a new title.
Of course, Capcom would never forget Mega Man. In 2017, on the 30th anniversary of Mega Man, we announced the Mega Man Project.
This announcement included the release of two collections allowing past titles to be enjoyed on modern consoles, as well as the completely new Mega Man 11.
The key to this newest game can be found in the title: the word "gear," and there are two meanings here. One is the "Double Gear" system that powers up the abilities given to the main character Mega Man. The other meaning is in the story, where the gears of fate revolve around the past connection between the two scientists, one who is Mega Man's creator and the other who is his enemy.
There will also be never-before revealed surprises, reaching back to before the first title, with some real "Aha!" moments for fans. At the same time, we are making innovations so that this title will place everyone, even those trying the series for the first time, at the same starting point when they play the game.

Three-dimensional visuals realized with 2.5D side-scrolling

Change gears to take on bosses and stages
The New Mega Man, Born from Diversity
The objective behind creating the first new title in eight years was to maintain the essence of Mega Man while creating a new standard. To this end, the development team consisted of veteran, mid-career and younger employees, as well as members with completely different histories and sensibilities, rather than only those with past experience on Mega Man.
This is because we thought diversity was necessary to create a new foundation. Each member wrote down their sense of the essence of Mega Man and how they would convey that using modern game consoles, then we considered each idea. The result was to use 2.5D to render side-scrolling 3D graphics. But this turned out to be fairly challenging.
Distortion occurs during 3D parsing, and creating rich visual expressions hampers the agile movements of the pixel graphics era. To address this, we are fine tuning the graphics using a trick art method to make it look more natural.
On first look, it may not appear to be technically impressive, but actually, it is loaded with techniques that could be described as "master handicraft."
The Mega Man series is a top-tier IP that will serve as a model for action games stemming from its 30 years of familiar quality.
In preparing promotions ahead of the launch, we are pulling out all the stops, including a 30th anniversary concert in Japan and an animated TV show in North America. We are making a truly enjoyable game that goes beyond countries and cultures, and with this title as a new starting point, we aim to capture the hearts of game fans around the world.

Announcing the demo version at E3

New Mega Man reborn through "master handicraft"
PDF download
The Heart of Value Creation

(PDF:2.17MB/8 pages)