Capcom's Value Creation

Medium- to Long-Term
Growth Strategy
The Heart of
Value Creation
ESG-Based
Value Creation

Financial Analysis
The COO's Discussion of Growth Strategies

President and
Chief Operating Officer (COO)
Haruhiro Tsujimoto
Capcom's Medium- to Long-Term Vision
Growth driven by the Consumer business
Mobile and esports are options for further growth
Changes in the Game Market
Evolution of sales methods utilizing social media and other approaches in the consumer market
Signs of revenue model diversification in the mobile market
Increasing potential for full-scale growth in the esports market
1 Consumer
Enhance Thorough Utilization of Core Consumer IP
Measure 1

Steady Annual Launch of Core
IP in Global Markets
Measure 2

Bolster Digital Downloads
(Full-Game and Additional Content)
Measure 3

Game Business Digital Shift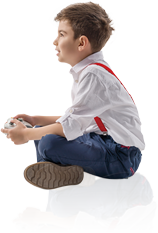 2 Mobile
Develop Measures for Medium and Long-Term Phases Aimed at Full-Scale Growth
Medium-Term Measures

Promoting Alliances in Japan and Overseas
Long-Term Measures

Preparation for Next-Generation Standards

3 Esports
Establishing a Foundation and Promoting the Spread of Esports to Prepare for Future Monetization
Measure

Initiatives Focused on Top Professionals and Expanding the Field of Amateurs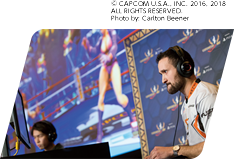 The game market this fiscal year was invigorated by favorable sales of game consoles from each hardware manufacturer, becoming a year in which we saw innovations including the rise of esports and new online game genres.
Currently, the aspects of the market I am focused on are (1) the further expansion of digital download sales in the consumer market, our core business, and the changing relationship between publishers and customers via the Internet; (2), ongoing changes in the mobile market toward the next stage, from a business model that is, as I pointed out last year, over-reliant on "gatcha" lottery-style mechanics; and (3) increasing expectations for growth in the esports market as an opportunity for revenue as well as potential changes in the social value of games.
In the rapidly advancing game market, Capcom will continue accelerating our Single Content Multiple Usage strategy, globally developing our rich library of IP, one of our strengths, for a variety of media while controlling performance volatility and realizing operating income growth every year by expanding our customer base.
To this end, in the consumer market, we will expand our new title lineup and continue promoting sales of catalog titles while strengthening trend analysis and promoting targeted approaches to meet diversifying user needs. Further, as an option for growth over the medium-to-long term, we will implement initiatives aimed at creating hit titles in the mobile segment and expanding the adoption of esports.

In Addition to Strengthening the Global Development of New and Past Titles, We Will Pursue Revenue and Profit Growth Using a Digital Approach to Sales
The consumer market is expected to grow to 35.6 billion dollars by 2022 (a 45.9% increase compared to the 2017), thus Capcom continues to position our Consumer business as our driver of growth. We have improved profitability and steadily advanced toward a recurring revenue model through ongoing initiatives that include the expansion of our new title lineup and sales promotions of catalog titles through strengthened digital downloads, achieving margins that were generally in the 30% range in the fiscal year ended March 2018.
Maintaining this basic strategy, we will better respond to the needs of existing customers and increase satisfaction by utilizing networks to strengthen marketing activities, while pursuing increased brand value, including the acquisition of new customers, and promoting further profit growth and a higher level of earnings stability.
Measure 1 Steady Annual Launch of Core IP in Global Markets
Since structural reforms in the fiscal year ended March 2013, and the full-fledged use of our strategic map (60-month), we have formed a title portfolio focused on stable growth and established a mechanism for placing more than 2,000 developers on a 52-week map at the required time on the required development team. As a result, we shortened the launch cycle for each series, enabling the launch of multiple major titles each fiscal year.
[The Heart of Value Creation] Devil May Cry 5
Based on this structure, I think there is substantial room for growth in the European and North American markets, which comprise 85% of the consumer market, and in addition to Resident Evil and Street Fighter, which are already popular in these markets, our strategic plan to make Monster Hunter a global brand with the release of Monster Hunter: World resulted in the sales of a record 7.9 million units in the fiscal year ended March 2018.
We will analyze the factors behind this success, developing and deploying this information as established know-how within the Company. At the same time, we will proactively recruit new graduates to increase our number of developers to 2,500 people by 2021, in order to increase the number of new major titles we release to global markets.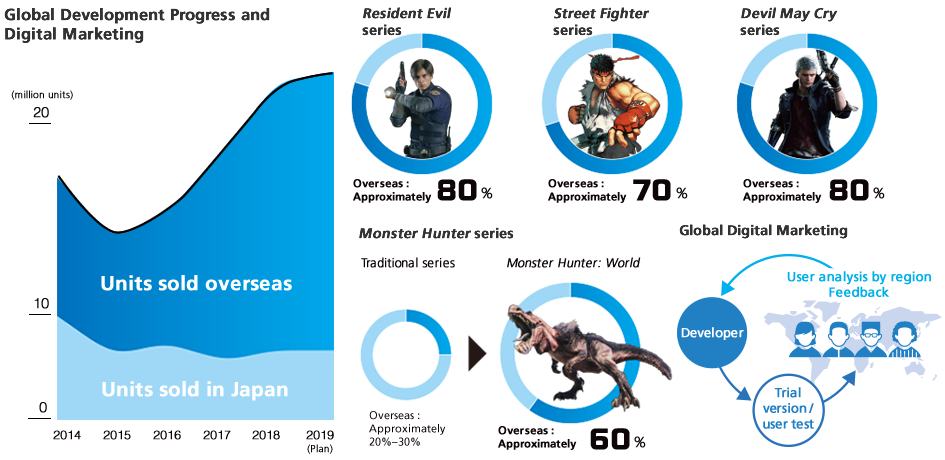 For the time being, we will place a priority on maximizing the revenue from current core IP, while also actively utilizing dormant IP. As the creation of new IP is also indispensable for medium- to long-term growth, we will concurrently create new brands as well.
[The Heart of Value Creation] Mega Man 11
Measure 2 Bolster Digital Downloads (Full-Game and Additional Content)
The merits of digital downloads include (1) improved profitability due to package production cost reductions and avoidance of inventory risk (full-game downloads), (2) additional earnings opportunities through full-game downloads of catalog titles, which can be difficult to sell in packaged form at physical retail shops, and (3) anchoring players by providing content on an ongoing basis and acquiring additional revenue (additional content).
In addition to new and catalog core IP titles, Capcom has strengthened full-game downloads for rereleases on current generation game consoles, and digital sales are growing steadily. In particular, catalogtitles and rereleases/remakes for current-generation game consoles have contributed to revenue over the long-term as we have promoted the transition to a recurring revenue model. We are close to achieving our medium-term objective of a 50% digital download sales ratio.
[The Heart of Value Creation] Resident Evil 2
There is still a lot of room to expand our lineup, including with dormant IP, thus we will endeavor to expand earnings going forward.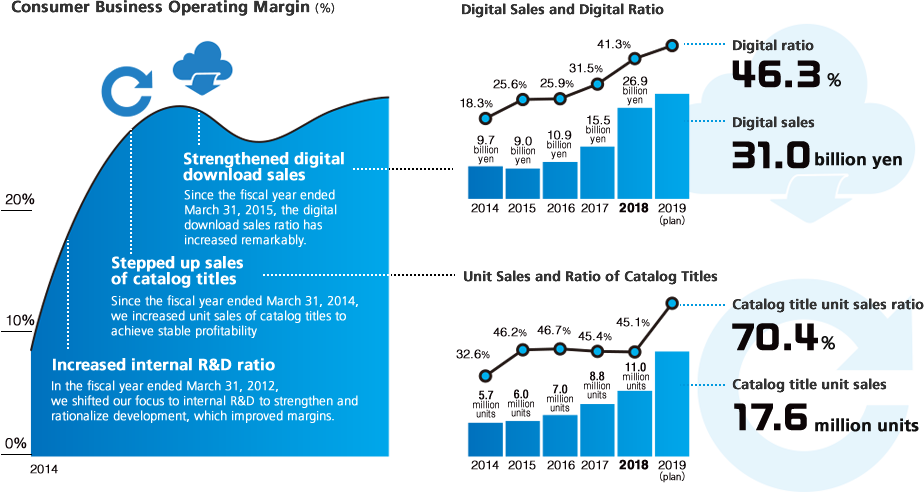 Moreover, with regard to additional digital content, Capcom is focused on improving user satisfaction with free additional digital downloads to increase fans of the brand and achieve growth from the next title onward. We are developing paid additional digital downloads, such as costumes, weapons and other items, with the main objective of satisfying players in a way that is not directly related to game progress.
Measure 3 Game Business Digital Shift
For some time, I have thought the game business could be made more efficient by utilizing state-of-the-art internet technology. My sense is that our industry has not yet sufficiently introduced the digital marketing and online promotion measures commonplace in other industries.
In the past few years, we established the Global Marketing Group and engaged in improvements resulting in Monster Hunter: World becoming the first title on which management, development and business came together to make full use of the internet to expand sales and realize improved quality. For example, the analysis of global user preferences gained through the distribution of an online demo version contributed to this record-breaking hit, and we are beginning to apply this method to titles that will be released from next fiscal year onward.
The critical factor is to extract and analyze data from the standpoint of user satisfaction being extremely important for luxury items like games. This importance will continue to increase going forward as digital natives familiar with the internet and social media since birth grow into core segment game users.
Amid the global expansion of markets, it is essential to develop detailed IP brand strategies. To comprehensively analyze user attributes, platform ownership status and price sensitivity for each IP, Capcom established a specialized department utilizing new analysis tools in April of the year. We will aim for global coordination by integrating the development, marketing and sales departments to further promote earnings and brand maximization.

Promoting Collaborations and Support for the Next Generation Aimed at Transforming Non-Growth Areas
Despite achieving consolidated earnings with record high profit, in the mobile domain we continue to lag behind other companies in our industry. At the same time, there is a sense that the "gatcha" business model that swept the market has reached its peak, and because the appetite for leading IP continues to increase, our analysis is that there is still significant room for potential growth due to Capcom possessing a large number of core action game IP. We will promote measures focused on both the medium and long term in an attempt to achieve growth in the mobile segment where the strong global growth rate is expected to continue.
Medium-Term Measures Promoting Alliances in Japan and Overseas
To pursue every possibility for mobile growth, since last fiscal year Capcom has been making a full-fledged effort toward alliances utilizing our IP in conjunction with companies specializing in the mobile segment. We aim to enhance our operational know-how in the mobile business, an area in which we have lacked the requisites for success, to improve game content and better implement timely events within games. Up to this point, we have been undertaking projects with multiple collaborators with track records of hits in Japan or overseas. Of these, at least two titles are planned for release in the fiscal year ending March 2019.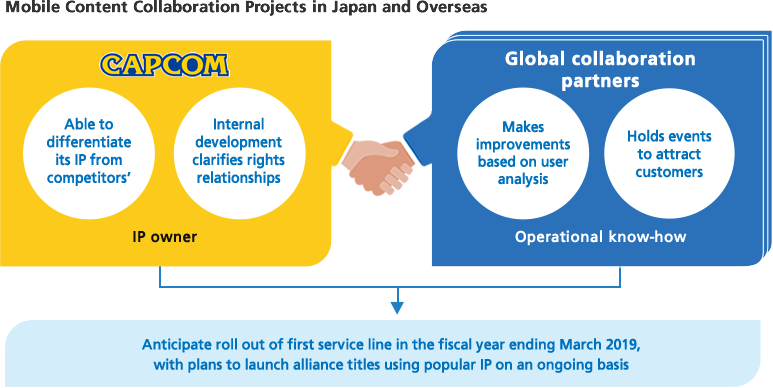 Creating hits in this way should provide the impetus for earnings growth from the fiscal year ending March 2020 onward.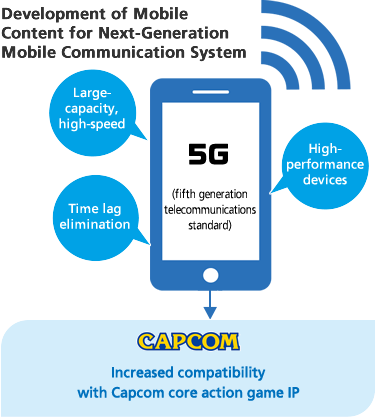 Long-Term Measures
Preparation for Next-Generation Standards
In the mobile segment, the next-generation telecommunications standard, known as "5G," will become commercially available in 2020. With a leap forward in communications speeds said to be 100 times faster than 4G, there are expected to be dramatic advancements in services using IoT as well as in the richness of content in line with device advancements. In terms of games, this will lead to the elimination of communications time lags and the creation of high-performance devices that we think will expand possibilities for utilizing Capcom's action-orientated IP, distinctive for their high-quality graphics, on mobile devices.
At present, our development divisions are engaged in technological research and the acquisition of development know-how to ensure we are able to seize this coming opportunity for growth.

Accelerating Initiatives in New Areas with the Establishment of Dedicated Departments and Increased Investment
About Esports
Esports stands for "electronic sports," which are video games played in competitions viewed as sporting events. Since the late 1990s, esports have been gaining popularity in the United States and Europe, and at present, various companies sponsor these competitions and there are numerous professional leagues and teams driving the worldwide popularity of esports mainly among younger segments.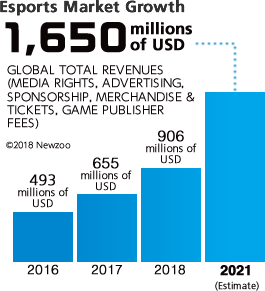 At present, esports is the area of gaming attracting the most interest in society. By 2021, the esports market is expected to grow to $1.65 billion, 1.8 times larger than its scale in 2018. Competitions with substantial prize money amounts and the success of pro gamers are drawing interest.
Amid these developments, in addition to being held as a demonstration event at the 2018 Asian Games, esports are also being considered for inclusion at the 2024 Paris Olympics, while in Japan the Japan Esports Union was created as a unified sports organization. I have made esports our new focus area, and by continuing to lay down a foundation for the future, we will work at the industry level to spread esports and establish it as a new form of entertainment that people can enjoy.
Measure
Initiatives Focused on Top Professionals and Expanding the Field of Amateurs
In terms of esports initiatives, Capcom already has an established track record that includes the Capcom Pro Tour, an international competition utilizing Street Fighter. In the fiscal year ending March 2019, under the leadership of a new dedicated department, we aim to strengthen investment and expand the scope of our activities, including hosting our first major competition in Japan to promote an environment conductive to the spread of esports domestically.
Specifically, we will bolster activities targeting top players, such as increasing the number of competitions and size of prize money, and issuing professional licenses to top-ranked athletes and other professionals. We will also hold qualifying competitions for amateurs and provide an environment that includes spaces for playing esports. This is because we think the participation of a wide range of people, from children to adults, is important for the full-scale adoption of esports and its elevation to a level of popularity similar to that of baseball or soccer. Although we will incur expenses in the short term, the building of a foundation for this market over the next five to ten years will enable esports to blossom as a major business over the medium-to-long term. Further, we think that increasing awareness and understanding of esports throughout wider society through its inclusion as an Olympic event and growing the player population will lead to improving the status of the game industry and contribute to society.
Capcom Initiatives
For Professionals
Capcom Cup
Since 2013, our U.S. subsidiary, CAPCOM U.S.A., has held the Capcom Cup, an official global competition for the Street Fighter series.
Capcom Pro Tour Japan Premier
In September 2018, at the Tokyo Game Show 2018, we held the Capcom Pro Tour Japan Premier. Prize money totaling 10 million yen drew major attention to this event.
For Amateurs
Expanding the Focus on Esports
In February 2018, we established the Capcom Esports Club, an esports community space, in Tokyo to expand our focus on the amateur segment and support the creation of a player community.
Provision of Popular Games
Provision of the Street Fighter Series
This title was provided for use at EVO, the world's largest competitive fighting game tournament, and at RAGE, Japan's first full-year esports event, among other competitions.
PDF download
Medium- to Long-Term Growth Strategy

(PDF:3.28MB/22 pages)