The CEO on ESG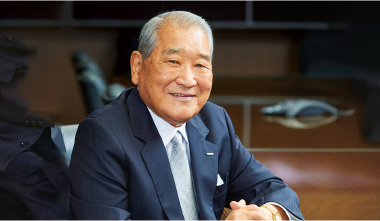 Increasing corporate value by building healthy relationships and a sturdy framework
Chairman and Chief Executive Officer (CEO)

1. Game company ESG initiatives
According to a public opinion survey conducted by the Cabinet Office in 2019, more than 62% of the Japanese people who responded said "Now that I have attained a certain level of material wealth, I would like to focus on living a more relaxed, fulfilling life" indicating that in recent years the number of people seeking emotional wellness over material wealth is increasing.
Games have made people smile, stimulated their senses, and created a new culture. They have also contributed to running a healthy society, receiving an endorsement from the WHO as for their value as entertainment while we have been asked to stay at home during the COVID-19 pandemic.
I believe that building a healthy relationship with stakeholders through business activities leads to improved corporate value. Therefore, focusing particularly on "S " (social) and "G " (corporate governance) of ESG, I recognize our critical issues as (1) developer numbers, (2) diversity, (3) support for education, and (4) the ratio of external directors. We will continue to promote ESG initiatives based on the SDG goals of creating a sustainable society and strive for sustainable growth while building a relationship of trust with our stakeholders.
2. Game company environmental measures
Capcom has been promoting the digitalization of game sales for some time. This initiative not only improves profitability from a financial standpoint, but it also reduces our environmental footprint by removing the manufacturing, packaging, and shipping packaged products require from the equation. In order to promote better work-life balance among our employees, we also encourage employees to live closer to their workplaces by arranging company housing and bicycle parking areas. We can expect this to reduce the emission of greenhouse gases incurred by long commutes. Our work in selling digital content itself has a low impact on the environment but mitigating climate change is an issue that requires the cooperation of everyone who inhabits the planet, and we will continue to promote environment preservation initiatives.
3. Building a healthy relationship between games and society
Although there is a need for games in society, there are also some challenges, such as expensive in-game purchases made by minors and game addiction.
Our purpose is to make people happy through games. Making people unhappy because of games is certainly not our intention. We are aware that these are major issues for our industry as a whole, and each company is cooperating as part of an industry organization to make efforts to (1) establish guidelines and educate people about them, (2) share problems and actual examples among member companies, and (3) exchange information on a regular basis with parents, educators, consumer groups, and government administrators.
In addition, since 2004, we have independently continued to be involved in game-related educational support activities as an initiative to alleviate social concerns surrounding games.
We also do our best to ensure a broad range of customers are able to play safely and fairly through measures such as refraining from adding "gacha" elements as a general rule when we develop mobile games.
Furthermore, for the pachislo market, we provide sponsorship and cooperation through industry organizations for the activities of pachinko addiction consultation agencies, such as Recovery Support Network (RSN).
4. Commitment to regional communities
The promotion of our Single Content Multiple Usage strategy provides society with a wide range of benefits. Specifically, these include the use of popular Capcom IP in local revitalization activities to support (1) economic development, (2) cultural development, (3) awareness for crime prevention and (4) awareness of elections.
We are achieving quantitative social outcomes through solving the common problem of attracting and appealing to the youth demographic.
The above four activities are benefiting Capcom as well by I. increasing satisfaction among existing users through event participation, and II. creating a more favorable impression of games among those with less interest.
We will continue these sustainable activities that are a win for both parties as our popular content contributes to society while garnering interest in that content.
5. Commitment to employees
As can be seen from the fact that personnel expenses account for approximately 80% of development expenses, the game industry is not a labor-intensive industry but a knowledge-intensive industry, thus human resources are an extremely important management resource.
I recognize the importance of diversity for creating content that will resonate globally, thus Capcom promotes the retention and training of talented human resources without regard for gender or race. As I mentioned earlier, we have world-leading, cutting-edge development equipment enabling our talented workforce to fully demonstrate their abilities.
In terms of remuneration, in addition to a well-balanced salary system based on ability, we have also introduced incentives for each title and an assignment allowance system to increase motivation.
In addition, in the fiscal year ended March 2017, we established Capcom Juku for on-site childcare, to provide an environment for employees with children that allows them to work with peace of mind.
In my view, the most critical aspect of human resource development is providing an environment that enables employees to take on new challenges. The manager's role is to push employees to take on one new challenge after another and to focus more on devising measures for the things that are not working rather than those that are. This enables employees to take on challenges without fear of failure, develop the world's most entertaining games and create new businesses leading to a virtuous cycle of business opportunity creation.
6. Continued anti-fraud measures for stable growth
As a company that handles data, it is important that we protect its value and associated rights. As the Chairman of the Association for Copyright for Computer Software, I have worked toward resolving piracy and various other issues for more than a quarter of a century.
Today, with the popularization of digital sales, we have stopped seeing the roadside sales of pirated versions of games that were once a common site in areas with many electronics stores. Meanwhile, the risk of cyber-attacks is growing as digital network technology becomes more widespread.
In light of the unauthorized access we experienced in 2020, we have established the Information Technology Security Oversight Committee, in addition to various other measures.
It goes without saying that even once security measures are in place, it does not mean they are perfect. We will continuously enhance measures as we move forward.
7. Strengthening the governance structure
Risks increase in proportion to the strength with which you step on the accelerator for growth, but governance is useful in avoiding or mitigating these risks. Specifically, with myself, Capcom's founder, as CEO and my oldest son as COO, we can avoid management decision risks by sufficiently leveraging the supervisory function of the external directors, and with unique mechanisms for highly transparent and rational decision making built by the Board of Directors.
Mechanism 1

Management visualization based on numbers

Despite changes in corporate scale or business environment, to conduct flexible and integrated management, I require that materials (documents) used for decision-making are, in principle, quantitatively focused. These materials compare and contrast net sales, year-on-year performance and earnings forecasts, which make it easier to identify problems by enabling us to confirm the details in multiple ways.

Furthermore, these materials are used for supervision by external directors and as IR materials for investors. We call this series of mechanisms "management visualization." Management decisions based on visualizing operations enable us to evaluate the Company with two sets of eyes using a system that seeks management transparency.

In addition, when I speak with developers, I use quantitative data as our common language. The bias of the person speaking can be infused into words, while numbers never lie. I want to pass on the management know-how I have cultivated as founder of the company to the next generation in a practical manner as we work to strengthen risk control in order to create a framework for management that will ensure the performance of the company into the future.
Mechanism 2

Continued governance reforms

For the past 22 years, Capcom has executed a variety of governance reforms.

Since introducing the external director system in the fiscal year ended March 31, 2002, external directors have increased to account for 45.5% of the Board of Directors.

External director appointment criteria have not changed since the system was introduced, but in short, we appoint directors with insight who are highly proficient specialists in their respective areas outside the gaming industry, capable of objectively making decisions regarding Capcom's management and business activities. With the avoidance of business investment risk as a priority issue, Capcom appoints individuals who are able to provide sound opinions, especially when earnings are subpar, who are not intimidated by the company founder and are able to determine validity from the general public's point of view.
Message from an External Director (PDF: 88KB)
In addition, in 2016, in order to further strengthen governance and achieve a swifter decision-making process, we transitioned from a company with a board of corporate auditors to a company with an audit and supervisory committee. The audit and supervisory committee is responsible for strengthening internal control by auditing how business is carried out by executives and employees and making recommendations for modifications.
Furthermore, since the fiscal year ended March 2021, we conduct an evaluation of the Board of Director's effectiveness. The results showed that the effectiveness of the system has been ensured, and we received new issues to work on. We will continue to deepen our understanding of those issues and strive to improve functionality.
Evaluation of the Effectiveness of the Board of Directors (PDF: 32KB)
Mechanism 3

Developing management human resource capabilities and grooming successors

I have grown Capcom for the last 38 years, and as the founding executive, it is also my responsibility to ensure my successors have a proper understanding of its mechanisms and are able to execute them. I actively engage in information exchange and advise our next generation of key personnel, namely (President) Haruhiro Tsujimoto, who leads the business side of our organization, and (Executive Corporate Officer) Yoichi Egawa, who leads development. Plans for my successor are being made through discussions with the Nomination and Remuneration Committee; if we can prepare my successor and enmesh that with our corporate philosophy and well-structured governance, we can achieve stable growth.
November, 2021
Kenzo Tsujimoto
Chairman and
Chief Executive Officer (CEO)