To begin, could you tell us about your career?

I joined Capcom on a part-time basis in 1999. I had studied 3D computer graphics in technical college and developed an interest in working for a gaming company, which would make the most of my skills. Demand for 3D graphics was huge at that time, as games were moving into 3D. Later, I worked on the Onimusha and Lost Planet series, before joining the E.X. Troopers team as the background section leader.

Then you joined the development team of Toraware no Paruma (Paruma). What made you take on the challenge of working in a genre that was new to Capcom?

At first, the planning belonged to Shiratori, the director. Having finished the development of E.X. Troopers, I was in between projects at the time. Meanwhile, the Mobile Division was developing Paruma so I began to assist the team with the creation of assets. After that, however, development was suspended for a number of internal reasons.

So how was the project resumed?

Just as I was feeling that we couldn't give up on this game, there was an internal call for game design documents. I submitted Paruma without hesitation. Fortunately, it won out against a field of about 150 design docs.
"We can officially develop the game!" All of the team members were excited, however, Capcom was relatively inexperienced in developing and selling games specifically geared toward women. The project was put on hold many times. Each time, we pushed to get it back underway, thinking hard about how to refine the game's design and our distribution plans. Our efforts paid off and we gained development approval; at last, we began full-fledged development in July 2015.

I'd like to ask you about the content of the game. First, how did you decide on the overall framework in the early stages?

We began with the idea of "Let's make what we want." This is because I figured that women have relatively wide-ranging tastes and could take an interest in any genre. For example, women read both comics targeting adolescent boys and those designed for young adult males. So if our product is actually good, women will enjoy it regardless.

Was it intentional that the project team mainly consisted of women?

At first, we did not set out to build a team of just women; however, I suppose the project naturally attracted them. As I often say, the initial concept was to create a "romance game for women"—and those who were a good fit for the project happened to be mostly female. There were male programmers, and many male employees gave us a hand, of course. But in the end, there were areas where we felt a feminine perspective was more appropriate for expressing the finer details and nuances of the story and script.

Tell us about the content and characteristics of Paruma.

It's a romance game for smartphones where players themselves fall in love with a character in the game. The player is brought to a solitary island in the role of a councilor to the two captive characters, Haruto and Aoi. The story progresses on the lonely island while drawing closer to the mystery and background of each character, and gradually the player nurtures love with one of the characters. One of the game's characteristics is, you as the protagonist don't play some defined character, but rather, you do what you feel—and this affects your love interest's words and actions.

That's quite a departure from typical games for women.

Yes. While there are a limited number of characters in Paruma, you don't have to change yourself to suit a character's personality or preferences; you only have to be yourself, and the communications between you and the character will change accordingly. I believe this characteristic is quite revolutionary. You build a relationship via conversation with the character, who acts cold and doesn't open up to you at first. Paruma accumulates and incorporates your choices during the game, and applies Jung's personality types to analyze your personality. Therefore, your words in one conversation affect later conversations. The character remembers that you like tea, for example, or that you acted in a certain way. Before you know it, you have your own Haruto or Aoi who think of you and grow closer to you.

Does the game have any smartphone-specific features?

Generally, you meet and talk with Haruto or Aoi in an interview room. The screen of your smartphone forms the glass barrier of the room. You can put your palm against his, and aside from your fingers, you can use your forehead or lips to carry out certain actions. In addition, you can communicate with him through messages, just like an SNS app on your smartphone. While some conversations may relate to the core of the story, having general, everyday conversations makes you feel you are really talking with him.

The Monitor System has also been a big topic.

This is quite unique. The player can see into Haruto or Aoi's room through a surveillance camera. So you may see something you gave him decorated in his room or watch how he writes replies to your messages.

How did you gather ideas for the game's scenario?

The fundamental framework was defined through team discussions. Meanwhile, the director created the final scenario.

What struggles did you encounter during development?

For one thing, since this is a new type of game, there were many aspects of the gameplay that Capcom didn't have any previous experience with. Meanwhile, for many team members it was their first time to develop a smartphone game so the project involved a lot of trial and error. The biggest challenge was coordinating the timing between a message sent by the character while they're being watched, and the receipt of the actual message by the player on their phone. Also, we had just a few team members whose job was checking the enormous amount of text and messages. That was a lot of work. (Laughs)

The kind of hard work unique to developing new IP. Were there any quarrels in the team?

In general, because we expanded upon ideas from sharing any and all thoughts, there was a flood of opinions. We didn't have any quarrels—although some team members wanted to expand the scenarios, while others wanted to stop when we wrapped up the game aspects to ensure we release the game in a timely manner.

What market segment are you targeting?

We targeted women of a wide range of ages, from their late teens to their forties—in particular, somewhat more sophisticated, working women. Our target customer is primarily women who are familiar with the subculture around movies, television dramas and animation. With that in mind, we went with cool, refined graphics for the game to distinguish it from the mass of cartoonish designs found in today's girls' games.

Given that Capcom has had few opportunities to work in this genre, were you still able to implement that unique Capcom flair?

Feedback during the quality control phase enabled us to further refine our game design to even more sophisticated levels. This process is quite typical of Capcom. New IP must have a firmly established game cycle (gameplay, game characteristics, etc.). It was a much simpler game in the early stages of planning. From there, we continued to build out ways to play the game. For instance, by putting NPC along the walkways we expanded conversation topics, and by giving the character an item that has some sort of connection, not only will his room take on a more lively feel, but it will also be fun for the player.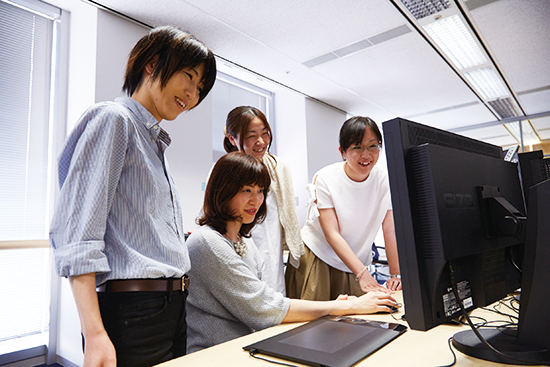 What is the ratio of female developers at the company?

Women account for about 20% of all developers. Still low, but I believe it is going to increase in the future.

Can you tell us about the work environment for women at Capcom?

Capcom is an easy place to work for women—or rather, I don't feel a distinction is made between men and women in the workplace. If you create something interesting, you are rewarded according to the results. Another way to look at it is that women don't receive any sort of preferential treatment. I wouldn't mind some of that! (Laughs) But really, it's a natural environment for developers.

Are things sometimes challenging?

Yes. I'm working while raising my child, and the time constraints of that can at times be trying. But even with limitations, knowing the company will reward you for producing good results regardless is encouraging. I believe it's a matter of thinking up a way of working that suits your situation and how to maximize results within that.

Capcom is preparing to open its own child-care center. Along those lines, are you taking advantage of any company benefits?

My son has already grown a lot. When he was little, I used a reduced hours system to start and leave work earlier. Even now, many women use a reduced hours system. When I had my child, not many women returned to work after childbirth, but these days the ratio of women coming back has grown quite high.

How do you balance family and work?

My husband doesn't just "help" me with housework; he regards housework as one of his own responsibilities. I appreciate that very much. My son sees him and aspires to also do the same as his father in the future. Some of my colleagues also have small children and I tell them about the things I've learned.

What are the benefits of having large numbers of women in game development?

In general, women tend to emphasize cooperation in work. As a result, everyone finds it easy to express their opinions. Because users are becoming more and more diverse, it is important to give visibility also to the ideas of a greater variety of people. But if bosses are too overbearing, the opinions of some people tend to be drowned out. It strikes me then, that a workplace in which many women are participating would be conducive to a greater variety of ideas. However, a team consisting entirely of women would also be biased. A balance is ideal.

Finally, would you like to give a message to the users?

More than a mere game, the concept of Toraware no Paruma is for you to fall in love with Haruto or Aoi. It's an experience where you can't wait to catch up with the character during your breaks or right before bed—it really is brimming with allure. We truly hope you enjoy playing it.

Thank you.