You joined Capcom in 1985, and after a thirty-plus year career were appointed to the top spot of R&D in July of 2016. Tell us some of what you've seen over the years.

I joined the company at a time when we were primarily developing arcade games. Since then, I've witnessed the transition R&D has undergone, including the start of Consumer game development, which began with the Nintendo Entertainment System. Along the way, I led the launch of our P&S (Pachinko and Pachislo) business, which took me away from game development temporarily. Even so, during that time I've been watching over Consumer game development—our core business—from an objective viewpoint.

As the sphere for game development expanded from arcade games to home console and then to online, what has been the unchanging core of Capcom's production?

It's nothing flashy, but perhaps the fact that we have always devoted a kind of craftsmanship to producing games. Since the days when we were developing arcade games, our foundation has been firmly rooted in an insistence on quality. In that context, we've put out titles such as Street Fighter, Monster Hunter and Resident Evil, which have grown into franchises and still continue today.

Your CEO, Kenzo Tsujimoto, is also really insistent on maintaining top-quality, correct?

Yes, and we want to maintain this insistence on quality. Whether it is Resident Evil or Monster Hunter, our stance of releasing our products to the world only after they have been carefully crafted is important—and I think it is precisely because of this that our products resonate with users.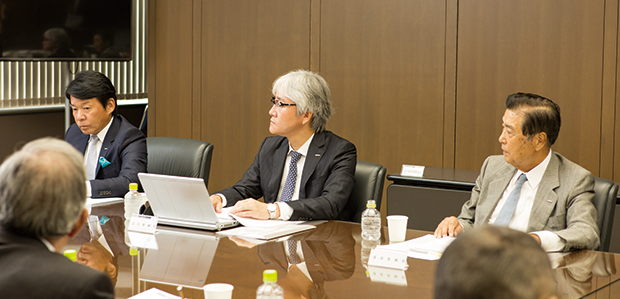 Following your appointment, you must have talked with member of R&D, as well as those in marketing and management. What issues stood out to you during this process?

Overall, there are two main issues we need to address. The first is strengthening our development structure, and the second is brand management.
As to the first, in the console business, we must beat our global competitors; in the online and social games business, not only game design but also how you design your operations for the game is crucial. We must ensure we can allocate the right people for the job to make development run smoothly. Research and development is also vital, and I feel that we must better share the knowledge gained from it internally. Human resources are our core, thus fostering them is indispensable.

What are your thoughts on this last point?

There is a high level of specialization in what we do; I believe it is a matter of to what degree we can master that, and to what level we can educate core members of development and increase their number. I'd like to draft a new employee development plan and put it into motion—foster personnel by establishing and promoting goals, discovering problems and issues, and continually reviewing our approaches and methods.

What about the second issue, brand management?

One of Capcom's defining characteristics as compared to other companies is, we have numerous franchises that are known and loved around the world. It is a major strength to have IP that we can comprehensively promote to increase our brand value; for example, by developing brands like Resident Evil, Monster Hunter, and Mega Man on multiple platforms, including mobile, or by producing film and animation adaptations of our games, as per our Single Content Multiple Usage Strategy. Going forward, we will collaborate with our corporate counterparts to fine-tune our operations and be better able to bring products to market, with strategic consideration for launch timing and platform.

Including the corporate side, was any restructuring done to address these two issues?

Indeed. We reorganized in April 2016 and established the Global Marketing Group. Although Capcom is globally competitive, in order to enable R&D to focus more deeply on creating engaging games, we felt it necessary to bolster collaboration with a department specialized in analyzing users' needs. Our aim is to take collaboration between corporate and R&D to new levels—all to better spread the joy of our games to people around the world.

Can you give an example of how R&D has worked with the Global Marketing Group?

Our digital strategy, for instance. Capcom is striving to build a highly profitable structure while building a stable portfolio. To this end, corporate requests high-definition (HD) versions of titles, or the inclusion of additional downloadable content. With HD versions of titles from our back catalog, we release past titles digitally on current-generation consoles. In doing so, we provide players who never got to play these games with a chance to enjoy them, and in turn are able to cultivate a new fan base. Since additional downloadable content is distributed incrementally as part of our continuous business model, it requires formulating a strategy while analyzing market trends on a global scale.

VR and eSports (electronic sports) are two emerging trends in the global game market. How is Capcom approaching these?

Capcom's strong suit is developing action games; we hope to nurture this while taking on new challenges and breaking into unexplored markets.

What about VR?

In terms of VR, we have RESIDENT EVIL 7 biohazard (Resident Evil 7, below) in the consumer game market, while our Tokusatsu Taikan VR Daikaijyu Capdon (Capdon, below) was made available to play at our amusement facilities. With Resident Evil 7, we succeeded in conveying Capcom's development prowess to the world by taking the series' roots of fear, exploration and tense atmosphere and integrating VR technology. As for rolling out VR products like Capdon to our amusement facilities, although the question of profitability is a concern, we will continue to investigate the technology as this segment of the market is expected to grow.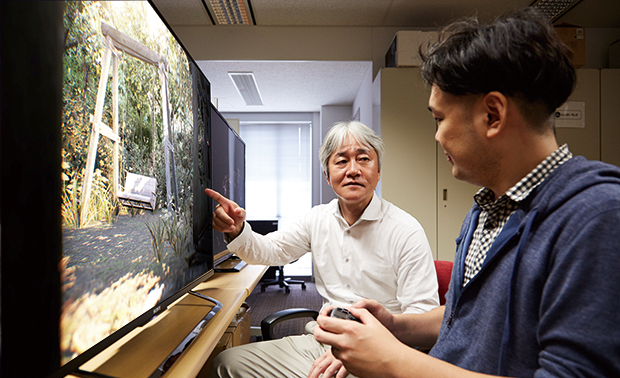 I see, how about eSports?

In this sector, we try to capture new users through events featuring Street Fighter V, such as the Capcom Pro Tour, which is organized throughout the world by our subsidiary Capcom U.S.A., Inc. We also collaborate with partners to organize opportunities for people to watch eSports year round.

You discussed breaking into unexplored markets. Would you consider your hit mobile title Toraware no Paruma an example of this?

Certainly. We'd like to continue taking on genres in which we haven't released games before, as with this one, which also happened to be developed by a primarily female team.

Thank you for your time. Could you give one final remark for those fans of Capcom's craftsmanship?

Capcom is building a structure and work environment that allows our development team to create engaging games. We possess technological facilities such as a 3D scanning studio, a Foley stage and a motion/facial capture studio that help bring our creators' visions for games to life. We also plan to establish a company day care center facility in April of 2017, with which I truly hope we can offer support to employees who are trying to balance their career and childrearing responsibilities. Above all, we want to release products that resonate with our customers. We will do this by strengthening our Global Marketing Group, and by building further collaboration between Capcom R&D and its corporate departments. Expect big things from us.