Get to Know
Capcom
Management
Strategy
Business Activity
Achievements
ESG-based Value
Creation

Financial Data
The COO's Discussion of Growth Strategies

We are Promoting our Brands
Globally by Strategically
Leveraging Capcom IP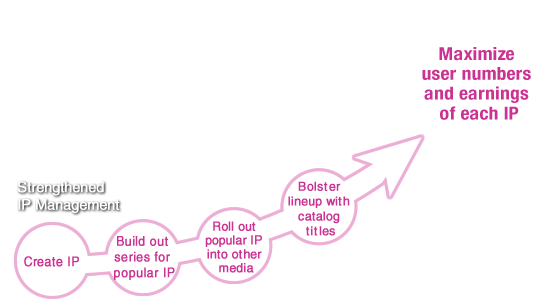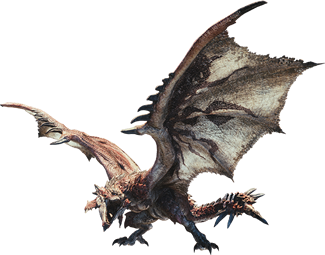 During the fiscal year under review, the game market saw the successive launches of both new game consoles as well as VR devices, which are highly compatible with games, marking the start of a new generation.
I view the biggest changes in the market this year to have been (1) the growth of digital downloadable content, which accounted for half of the consumer market, our core business, indicating further changes in user purchasing behavior and (2) in the mobile market, where current game play trends have peaked and we began exploring the evolution of what comes next.
To continue growing in this constantly changing game market, it is critical that we aggressively utilize our rich library of IP, one of our strengths, in developing series and expanding into other media (Single Content Multiple Usage). In addition, rather than maintaining our conventional individual title-based marketing strategies and revenue management, I think it is necessary to, with a sense of speed, analyze platforms and user segments and strengthen brands more comprehensively by individual IP (series).
On the following pages, I will provide details on Capcom's growth strategy.

Consumer Business Expansion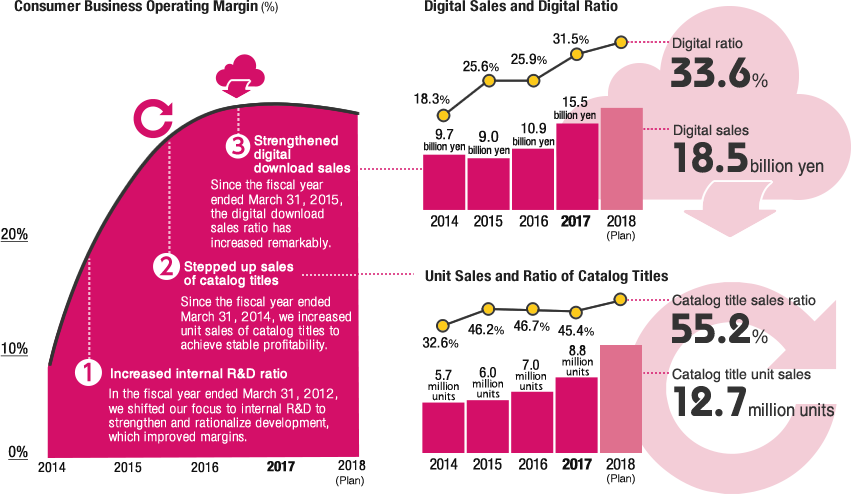 Overcoming the Earnings Volatility Unique to the Hit Business, Realizing Annual Growth in Operating Income
Generally, earnings fluctuate significantly in the Consumer business depending on whether or not you have a hit title.
To smooth fluctuations in performance and achieve stable growth, since 2012 Capcom has made efforts to transition to a recurring revenue model by promoting the (1) stable launch of core brands and (2) strengthening of download sales.
In the consumer market, which is expected to grow to 27.2 billion dollars in 2021 (up 28.3% compared to 2016), the increasing sophistication of development technologies is raising barriers to entry, causing a decline in the number of software developers. This is an advantageous environment for Capcom, as we possess a wealth of IP and strong technological capabilities.
[Financial Data] An Analysis of the Market and Capcom
Capcom positions the Consumer business, our source of corporate value, as one of the most important businesses in our growth strategy. We will reduce performance volatility and realize our new medium-term business goal of annual growth in operating income through the implementation of the following three measures.
Measure 1Steady Launches of Core IP in Global Markets
One of Capcom's strengths is our large library of popular IP, backed by our in-house production of legendary content. In the past, there were times when earnings fluctuated significantly due to the number of major titles launched during the fiscal year.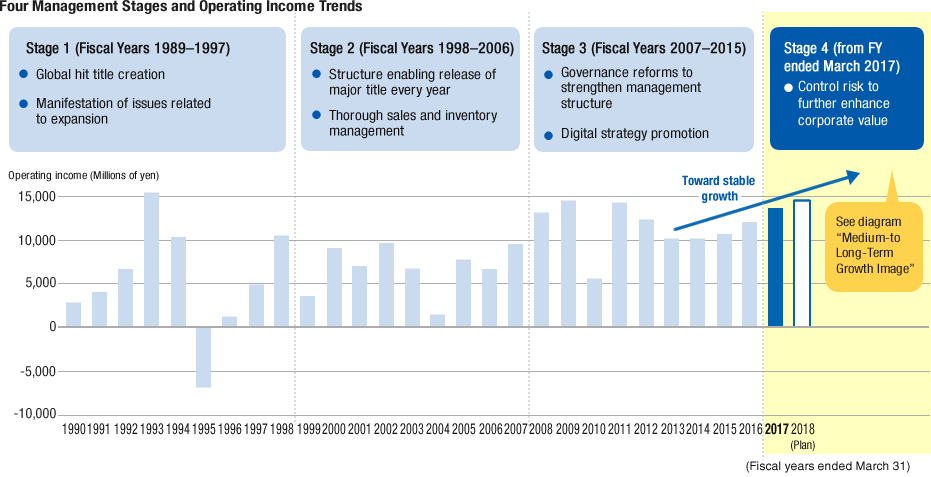 However, since structural reforms conducted in the fiscal year ended March 31, 2013, and the full-fledged use of our strategic map (60-month), we have formed a title portfolio focused on stable growth and established a mechanism for placing 2,000 developers on a 52-week map at the required time on the required development team. As a result, we shortened the launch cycle for each series from 3-4 years to 2.5 years, enabling the launch of multiple major titles each fiscal year; thus, we will expand our lineup over the medium- to long-term.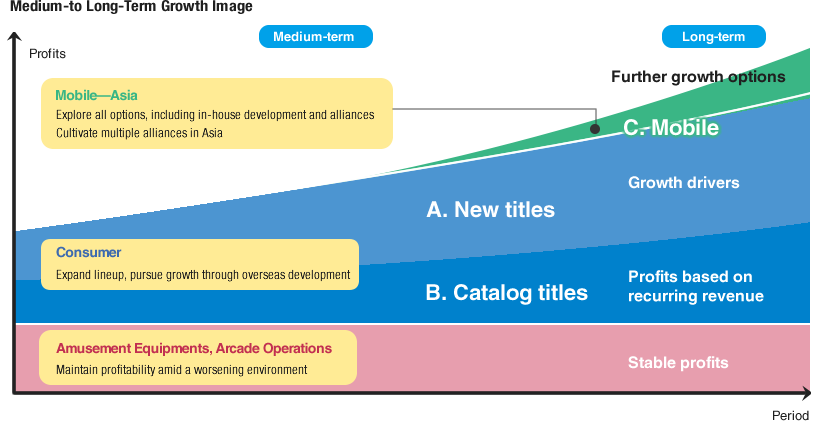 Furthermore, we think there is substantial room for growth in the European and North American markets, which comprise 85% of the consumer market. We will aggressively launch content already popular in these markets, including Resident Evil and Street Fighter, while strengthening the global expansion of the Monster Hunter brand.
Moreover, to achieve medium- to long-term growth, it is also essential to create new IP. Concurrent with the above measures, we are allocating a certain percentage of development investment to develop new brands.
Measure 2Bolster Digital Downloads (Full-Game & Additional Content)
The merits of digital downloads include (1) improved profitability (full-game downloads) due to package production cost reductions and avoidance of inventory risk, (2) additional earnings opportunities through full-game downloads of catalog titles, which can be difficult to sell in packaged form at physical retail shops, and (3) anchoring users by providing content on an ongoing basis and acquiring additional revenue (additional content).
In addition to new and catalog core IP titles, Capcom has strengthened distribution of digital downloads for current generation game consoles, and digital sales are growing steadily. In particular, catalog titles and rereleases for current-generation game consoles have contributed to revenue over the long-term as we have promoted the transition to a recurring revenue model. As for points 1 and 2 above, there is still a lot of room to expand our lineup, including with dormant IP, thus we will focus efforts toward this goal going forward.
In addition, with respect to additional content, we will focus on rolling out content best suited to the format, including releasing new characters in Street Fighter. This will not only promote ongoing user engagement and contribute to revenue, it will also lead to increased user satisfaction and expanded sales of upcoming titles.
Through these measures, we will increase our digital ratio from 31% at present, to 50% over the medium-term.
Measure 3Strengthen Brands on an IP Basis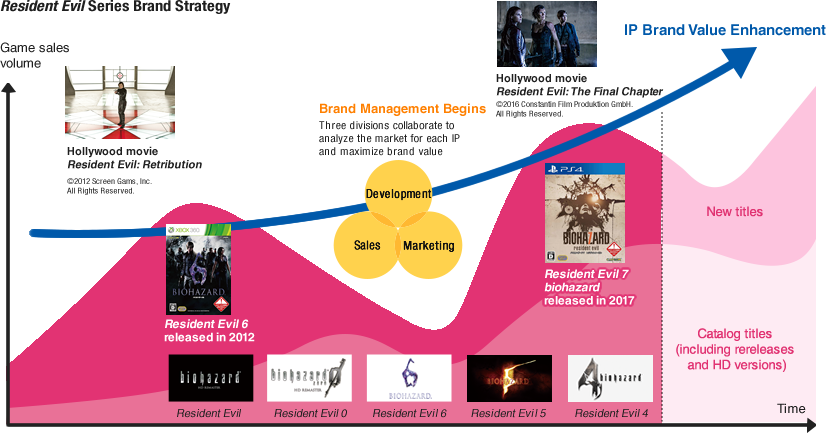 Accordingly, assuming a long-term sales period for full-game downloads, with individual titles we will strengthen post-launch marketing measures such as additional content and pricing strategies, and maximize profits during the earnings period. Furthermore, we will attempt to strengthen brands and expand our fan base, leveraging synergies in sales by launching and developing promotions for not only new titles, but also catalog titles and rereleases for current-generation game consoles from the same IP during the same time frame. For example, in the run-up to our new title Resident Evil 7 biohazard this fiscal year, we rereleased Resident Evil 4, 5 and 6 for current-generation game consoles during the same time window, resulting in overall IP (Resident Evil) unit sales that substantially exceeded our initial plans.
We are working toward globally coordinating a three-pillar system comprised of our development, marketing and sales divisions in order to comprehensively analyze the user attributes, platform ownership status and price sensitivity for each IP, as well as to maximize revenues and brand power.
Overhaul Our Online Business
Transforming the Mobile Business into a Growth Business: a Priority Issue for Management
Investors have asked "why is Capcom's Mobile business lagging behind in terms of sales volume and growth rate, as compared to other companies in the same industry that are expanding revenues in the growing mobile market?" This is because, despite taking suitable measures to overhaul a primarily in-house development structure for the past three years, we have been unable to achieve satisfactory results. We recognize that the mobile game market accounts for the majority of the game market, and think our investors' point is valid; thus, we made a decision: we will return to our foundation and maximize profits by thoroughly leveraging our advantageous position of possessing a wealth of popular IP. We will focus efforts on creating a business platform that places no restrictions on the Mobile business. In other words, going forward, we will explore all possibilities: not only internal R&D, but also alliances and M&A with companies specializing in the mobile sector.
Measure 1Domestic Alliances—
Exploring Partnerships to Effectively Use Our IP
Critical prerequisites for success in the Mobile business include (1) possessing popular IP able to be differentiated from numerous other competing titles and (2) possessing the operational know-how to implement appropriately timed game content updates and in-game events based on user behavior analysis.
The challenge for Capcom is how to respond to the second point. Titles such as Monster Hunter Explore contribute to stable earnings, however, greater operational know-how will be needed in order to take advantage of business opportunities.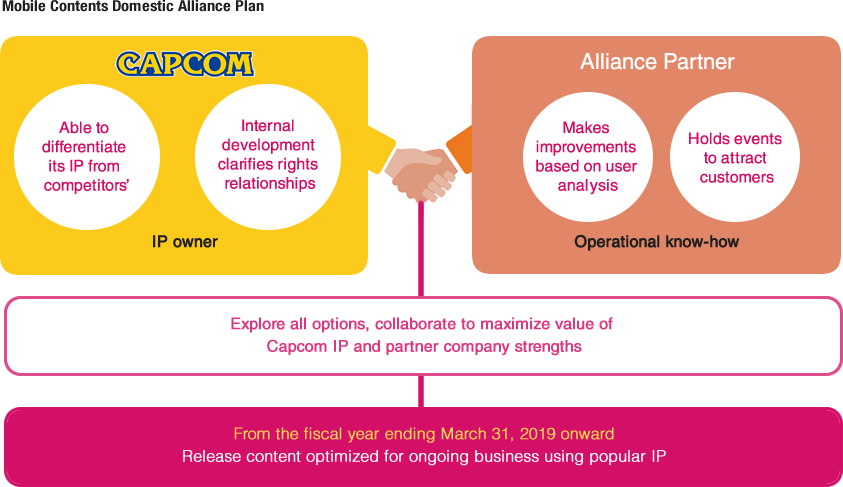 To resolve this issue, we will accelerate alliances in Japan. Specifically, as the market environment has intensified in the past year, the rising importance of point one has provided a tailwind, increasing alliance proposals from companies specializing in the mobile sector and enabling Capcom to negotiate multiple options.
When negotiating, we are leaving all options open, and will adopt an alliance structure that maximizes the strengths of both parties (Capcom's IP and the target company's operational expertise). We will consider aspects such as the IP, development structure, game genre, and monetization methods to be used in order to make the optimal decisions for each deal. At this juncture, I am unable to discuss which companies we are working with, specific titles or launch dates; however, once the details of an alliance are decided, we will make an effort to quickly move forward with development.
Our aim is to begin launching titles from the fiscal year ending March 31, 2019.
Measure 2Overseas Alliances—
Promoting Regional Strategies in Asia, Europe and North America
The overseas mobile market is four times larger than that of Japan and Asia in particular—which includes, China—is expected to drive growth going forward. In light of varying market characteristics in each region, Capcom will create hit titles promoting strategies tailored to each region.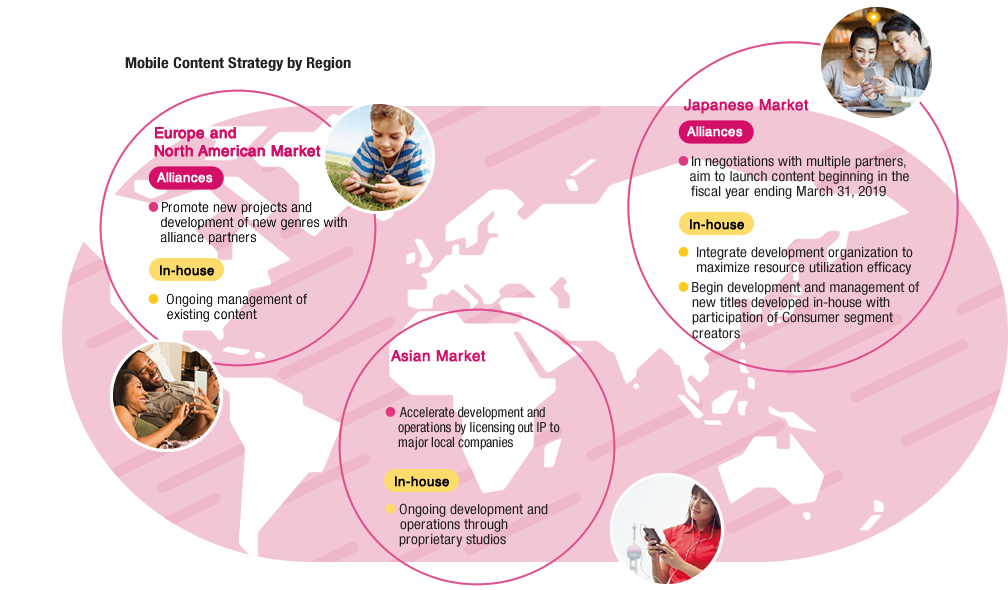 First, in the Asian region, we had focused our efforts on PC Online development; however, the market is shifting towards mobile, so we will concentrate on the Mobile business going forward. Specifically, we will expand our business focusing on development and operations by licensing out IP to major local players.
The reason for promoting licensing (alliances) is to avoid country risk in Asia and acquire operational know-how based on local user preferences. With the exception of Taiwan and a few other places where we are engaged in proprietary development, we have determined alliances to be effective at this time. Multiple projects are already underway as we establish a foothold for full-scale efforts beginning in the next fiscal year.
In Europe and North America, where the proportion of female and younger users is comparatively higher than other areas, our analysis leads us to believe there is a significant opportunity for creating new genres unlike any other in conventional mobile games. We have already set our sights on several of these and have begun new projects and alliances with companies knowledgeable in this area.
Measure 3 Internal R&D—
Focusing Efforts on Developing High-Quality Games
Mobile device specifications have improved substantially and we predict that in one or two more generations we will be able to develop mobile games with quality rivalling that of Consumer games. Capcom will solidify its Mobile business foundation through alliances in Japan and overseas and, with an eye to the long-term, engage in internal game development for high-spec devices. By having Consumer game developers also participate in mobile development, we can pioneer new genres, as we did with Toraware no Paruma, while maximizing revenue by utilizing mobile as another platform in the multi-platform approach of our Consumer business.
PDF download
Management Strategy

(PDF: 2.62MB/22 pages)