Get to Know
Capcom
Management
Strategy
Business Activity
Achievements
ESG-based Value
Creation

Financial Data
The Head of Development Discusses Development Policies
and Foundation Building


The Foundation and Policies that Drive the World's Most Entertaining Games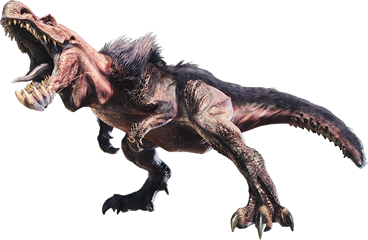 The DNA of Capcom's game development is deeply infused with Chairman Tsujimoto's approach to craftsmanship: making the highest quality in the world, and going one step further to create something truly interesting. This thinking has not changed since the Company's founding. The exhilaration and sense of fulfilment of leading this elite group of talented individuals toward being the very best in the world is a feeling that I would not trade for anything.
Over the years, I have lead numerous projects, anchored by the motto of "never running away, and never giving up." Going forward, I am resolved to meet the expectations of the Chairman, and therefore the expectations of all of our customers, in my efforts.
My duties as the person responsible for development are to strengthen our development structure to ensure the world's highest quality games, while launching multiple major titles each year, scoring a hit mobile title, expanding our downloadable content offering, and leveraging our back catalog of titles. Beyond that, I must further strengthen our production pipeline, while working on the development of new IP.
To realize these goals, it is essential that we expand our development resources (our people). To this end, we formulated a human resource strategy that breaks from traditional approaches, and are focusing efforts on both recruiting and training development personnel, and building up our development environment.
Brand
Fiscal year ended March 31, 2016
Fiscal year ended March 31, 2017
Fiscal year ending March 31, 2018 (plan)
Resident Evil

Resident Evil: Revelations 2
Resident Evil 6*
Resident Evil 0*

Resident Evil 7 biohazard
Resident Evil 4*
Resident Evil 5*
Umbrella Corps

Resident Evil: Revelations*
Resident Evil: Revelations (NSW)
Resident Evil: Revelations 2 (NSW)
Resident Evil 7 biohazard Gold Edition

Monster Hunter

Monster Hunter XX (Double Cross)
Monster Hunter Stories

Monster Hunter: World
Monster Hunter XX (Double Cross)
Nintendo Switch Ver.
Monster Hunter Stories (ver.1.2)

Dead Rising

Dead Rising*
Dead Rising 2*
Dead Rising 2: Off the Record*
Dead Rising 4

Street Fighter

Ultra Street Fighter II: The Final Challengers

Devil May Cry

DEVIL MAY CRY 4 Special Edition

Dragon's Dogma

Dragon's Dogma: Dark Arisen (PC)

Dragon's Dogma: Dark Arisen*

MARVEL VS. CAPCOM

Ultimate Marvel vs. Capcom 3

Marvel vs. Capcom: Infinite

Total
7 titles
11 titles
Over 11 titles
Excludes unannounced titles as of September 30, 2017
Notes 1. * indicates current generation game consoles 2. NSW: Nintendo Switch
People and Technology:
Building Up the Dual Foundations Essential to Game Creation
Bolstering Development Personnel
Growing a Young Pool of Talent
Within the creative field of game development, the most important factor in being able to quickly adapt to the ever-increasing scale of game development, while at the same time bolstering the lineup of major titles needed to provide stable growth, is building up our personnel base.
To this end, we have hired 100 developers every year since fiscal 2011 with the goal of maintaining a workforce of 2,500 developers by fiscal 2021. To ensure the quality and quantity of our human resources, we have introduced unique training and mentoring systems to increase both human skills and technical skills, establishing a practical means of developing young employees to become fully self-sufficient by their third year of employment.
The reason we choose in-house production over subcontracting, despite increased fixed costs, can be found in advancements in and the growing scale of game development. We judged that, in addition to there being few subcontractors able to provide us with the necessary support, creating an environment of friendly competition is essential to world-class development and technological capabilities.
Developing Core Human Resources
Another important initiative is developing mid-career and younger employees (core development framework)to become "core members" who will lead overall game development. No matter how much we increase the number of our younger employees, if we do not bolster core members such as producers and directors in each section, we will not be able to increase our title lineup.
We will selectively promote talented personnel in key areas and cultivate them through title development.
Occasionally, our employees must cope with failure, and sometimes they will hit a wall, but a wealth of experiences is the source of personal growth.
Within a development organization, I believe it is the responsibility of management to provide an environment enabling employees to take on challenges while reducing business risk from failure.
We are already seeing the result of this selective promotion reflected in major titles and current-generation console re-release titles. Going forward, we will also proactively assign young people to mobile development.

Outfitting our Development Environment
It is our belief that building an environment to facilitate the creation of entertaining games and maximally leverage the talents of developers is vitally important, thus, we have established a number of world-class R&D centers and development facilities.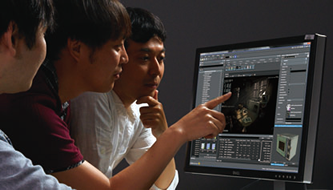 RE ENGINE
Enabling graphical expressions nearly indistinguishable from live action, this engine also supports the latest technologies, including VR. Further, it dramatically shortens the time required for each process in game development. One merit of an in-house development engine is that the engine team is able to collaborate with the game development team to constantly improve specifications. This important foundational asset helps us realize quality appreciated the world over.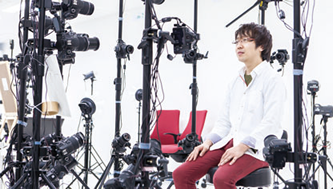 3D Scanning
Capcom has a 3D scanning studio world-class in scale and equipped with approximately 130 cameras. Photographing items in 360° enables them to be scanned as 3D objects.
This substantially reduces the time required for CG modeling traditionally done by hand, and in addition to efficiency, enables us to pursue even higher precision and quality.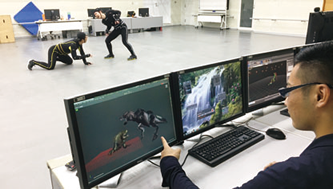 Motion Capture
This technique uses an infrared camera to detect actual human movement, which is converted to data on a computer. In pursuit of realistic character movement, we built a new studio boasting a ceiling height of seven meters, one of the largest in Japan. This makes it possible to record wire action, falling stunts and other actions from different heights.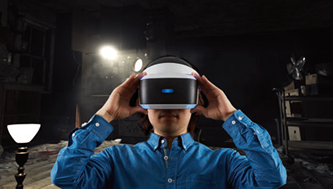 Virtual Reality (VR)
VR technology enables users to experience immersion in virtual worlds. Users are able to enjoy an overwhelming sense of realism as images completely fill their field of vision. Resident Evil 7 biohazard was the first game in the industry to be fully VR-compatible, and garnered high praise both in and outside the Company for providing a horror-entertainment experience beyond imagining.
PDF download
Management Strategy

(PDF: 2.62MB/22 pages)