July 3, 2009
Press Release
Capcom and Advanced Telecommunications Research Institute International (ATR) are proud to announce the merger of ATR's "AniFace" voice animation technology and Capcom's video game knowledge in Capcom's newest entry "Sengoku BASARA3".
Advanced Telecommunications Research Institute International (headquartes and Keihan Research Laboratory located in Kyoto, Souraku-gun, Seika Japan.) and Capcom Co., Ltd. (headquarters located in Chuo-ku, Osaka, Japan.) will be implementing the 3D character speech animation creation service, "AniFace", for the first time in Capcom's new title, "Sengoku BASARA3".
ATR and Capcom began evaluating this new system in May of 2008. "Sengoku BASARA3" will be the first product collaboration to take advantage of this high-quality facial animation service. "AniFace" allows large amounts of voice data to be implemented in a much shorter period of time than methods previously used.
Recently, the challenge of how to further technological advancements in the area of high quality digital content creation was pursued in more detail in order to keep pace with the ever-increasing production demands of next-gen consoles and CG movies. In the future, as technology continues to expand, we can expect big changes in the workflow associated with 3D character animation, especially in the area of CG movie production. We can also expect that new technology will enable efficient production of facial animation for both pre scoring (sound that is recorded before the movie is created) and post scoring production methods.
This technology is founded in the results of a research project in digital media creation, supported by the Japan Science and Technology Agency (JST) and the Core Research for Evolutional Science and Technology (CREST). http://www.media.jst.go.jp/
"AniFace" – A service supporting facial animation production
Facial animations can be created easily by using a minimal amount of facial shape character data in conjunction with recorded voice data. These animations will match the personality of the character. With additional dialog data, the precision of lip-synching can be greatly increased. Special features of the service include: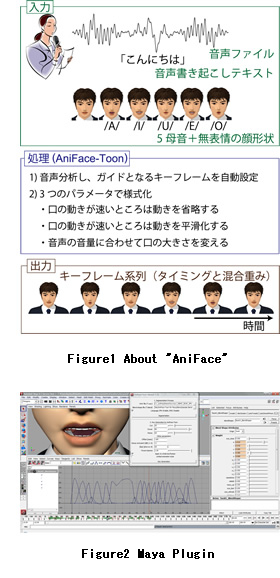 1.Efficient speech recognition
Through application of ATR's independently developed voice recognition technology, key frames for accurately lip-synched facial animation can be created using only recorded voice data, or voice data and dialog information.
2.Complete mouth animation
Using a minimal amount of a mouth's shape data, a complete animation down to the smallest detail can be simply created.
3.The following parameters are used to easily tweak the animation, bringing out the character's personality. Cut – reduce key frames to smooth and simplify the animation. Power – emphasize animation to match high-volume voice. Decay – smooth out fast movement when a character is speaking quickly. Currently, both Japanese and English are supported, and the software is available as a plug-in for Autodesk Maya®.
About "Sengoku BASARA"series
"Senguku BASARA" re-imagines the Warring States period of Japanese history. Historical leaders and military commanders of the time are portrayed with an anime twist in this fast-paced action game. This helps to make the material accessible to younger players. Since the first game's release in 2005, the series has expanded into other media, including live performances, various character goods, and an animated TV series in 2009, maximizing the property's cross-media appeal. "Sengoku BASARA3", the newest entry into the series, is slated for a 2010 release.