"That's one more down. There's just no end to it, huh?" said Yamamoto to Kobayashi who had just walked out of a meeting room after finishing an interview with a magazine.
"Thanks to this history fad, the interview requests keep pouring in. I can't get any work done," complained Kobayashi as a smile crept across his face.
"Well, all in a day's work for our producer," laughed Yamamoto.
July 2009
Four years have passed since the original "Sengoku BASARA" was released.
During these four years, the two men continued to release sequels at the rate of one title per year, while expanding the series into other media including drama CDs, comics, TV animation and stage performances. "Sengoku BASARA" had now become a popular brand with a firmly established position in the company.
At the same time, the series had kicked off an unanticipated social phenomenon: the female history buff fad.
From around 2007, the media noticed that young women were getting excited about sharing information on sightseeing involving historical sites related to feudal warlords and traditional events. "Sengoku BASARA" is considered to have started this fad, so as the game's producer Kobayashi had recently been overwhelmed with interview requests from game magazines, regional newspapers and general newspapers.
"Was today's interview about women history buffs again?"
"Yes, and as expected, I got asked, 'As the creator of this trend, how do you feel about it?'"
Typical action games base their appeal on difficulty, and because women in Japan have traditionally shied away from action-intense games, there are few female fans. "Sengoku BASARA", however, is so easy to play even people without much gaming experience are able to mow down large numbers of enemies. The characters are stylish and handsome men, who bring an enjoyable variety of colorfulness to the game depending on the character chosen. This unique appeal has captured the hearts of numerous women. Even non-playable supporting characters have passionate female fans—fans who surprise local residents when they flood into related historical sites in droves.
"Trendsetters, huh? Well, it's not like we had planned for this to happen."
"True, from the start I did decide not to include blood or other things women tend to dislike. However, I never imagined there would be so many female fans. I said as much again in today's interview."
"By the way, apparently we have a request from Miyagi Prefecture to use our Masamune Date character."
"I know. Thinking about it, it's really amazing, isn't it? The idea of using a video game character for a gubernatorial election poster."
The worlds created by video games can have a significant impact on society. The two men had a renewed sense of the deep and profound potential of video games.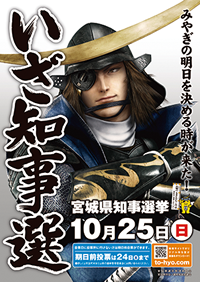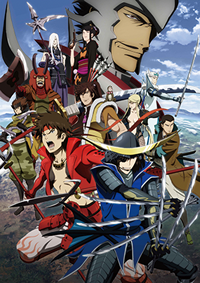 TV animation "Sengoku BASARA"
©CAPCOM/TEAM BASARA