Creative Minds: Voices from the Frontline of Development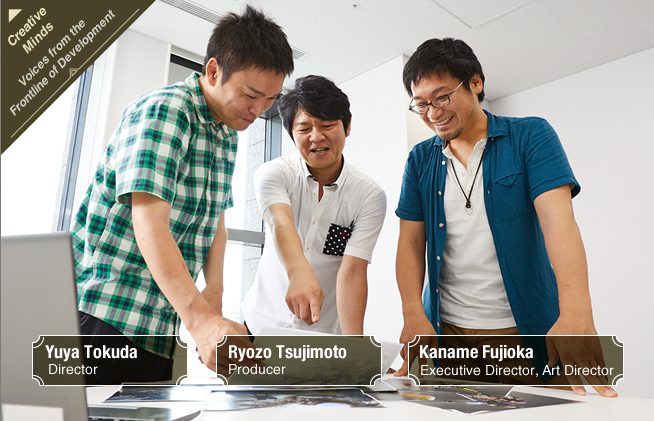 Coupling Technological Capabilities with
Teamwork to Maximize Monster Hunter's Appeal
The Ultimate Hunting Action Driven by Cutting-edge Technology
Tsujimoto:

We began work on Monster Hunter: World about three and a half years ago. The industry environment was in a state of flux, but we started with the idea of creating the ultimate in hunting action supported by cutting-edge tech on current-generation consoles.

Tokuda:

When I heard about this project from the producer, Tsujimoto, I immediately thought of the very first Monster Hunter; it had a fresh, unique concept where monsters weren't treated as mere enemies, but as part of an ecosystem. Actually, the original Monster Hunter was why I decided to join Capcom.
Now, working for the first time as a director, I want to express this original concept through the lens of new technology.

Fujioka:

How can we express this ecosystem on current-generation game consoles? If we don't create an environment where the movement and actions are seamless, we will be unable to portray an ecosystem that lives and breathes. That's why a major point for us was how to leverage the capabilities of the hardware.

Tokuda:

When we got started, a lot of games featured big, open areas. I asked our art director, Fujioka, about how to approach development of a game that was both seamless and very dense.

Fujioka:

Three dimensional, highly dense landscapes best suited us in terms of game design and expression. I decided to go ahead and create a landscape packed with all sorts of different elements. The first area I designed using this approach was the "Ancient Forest."

Tsujimoto:

The Ancient Forest is a place where these age-old trees are clustered together into a massive forest at the center of a meadow. A variety of plants and animals live in this densely packed area, and we started by firming up an outline for the game where you can utilize every aspect of that environment while hunting.
Bringing to Life High-Definition Graphics and Advanced Gameplay via Team Coordination
Fujioka:

First, I tried to make a model of the Ancient Forest by placing all the elements in the area and testing them, but it was just too much.

Tokuda:

The landscape was too complicated, and we got lost trying to find the monster. I debated as to whether I should incorporate a guide for players, and Fujioka came up with the idea of Scout Flies—glowing insects that help players find their way. I also incorporated territory maps and voice guidance to allow players to smoothly get acquainted with the game.

Fujioka:

In addition to elements of gameplay, we also put a lot of thought into how to present the world. Up until now, the screen changed from area to area, so we could design each area with a light source that suited our needs in making a more enjoyable play experience. However, this time around all areas are connected, so that wasn't possible.

Tsujimoto:

On top of that, we also incorporated the passage of time into this game.

Fujioka:

So, we did things like adjusting the landscape to allow light to shine into darker areas, or setting up objects that produce light. The ones who supported all of our visual and game design efforts were our development engineers. We were able to make dark areas slightly brighter using secondary light reflection, as well as show light permeating monster wings and plants. They provided stacks of technical proposals that allowed us to produce natural, realistic light using physics-based calculations.


Expressing the movement, filtering and reflection of light brought the Ancient Forest to life.

Tsujimoto:

Our engineers had our backs with the tech, helping deliver an experience that is true to the Monster Hunter world. They really know their Monster Hunter, and I'm grateful!

Fujioka:

It's the same with asset based development—with images and 3D models. Creating grass and trees with assets makes it easier to rearrange the landscape, so it's easier to engage in trial and error compared to conventional development.

Tokuda:

One example of this is an area called the "Wildspire Waste," where we have all of these anthills of varying sizes. Creating the anthills on an asset basis made it easy to place and add variations of them.

Tsujimoto:

Thanks to close communication with development engineers, we were able to make the game we wanted to make.
Motivated Individuals and a Flexible Organization Made a More Interesting Monster Hunter
Tsujimoto:

How's being director for the first time?

Tokuda:

Compared to my experience as a planner, the biggest difference is that as director I must oversee the entire production process. In particular, it has been a challenge to keep everyone on the same page in terms of goals.

Tsujimoto:

It was a fairly large team, so schedule management must be challenging, right?

Tokuda:

I've really stayed focused on the schedule, directly communicating what needs to be done on a weekly and daily basis. I've gotten through by maintaining tight back-and-forth with the our team, checking finished products and communicating which issues to tackle next.

Fujioka:

To create a title able to compete not only in Japan, but also around the world, we could not compromise on quality. Thus, we adopted a flexible unit structure without barriers between sections. Once a unit's mission was complete, that unit would disband and people would flow into their next unit. This way, we could speed up development and maintain quality goals.

Tsujimoto:

More than anything, the absolute motivation of everyone on the development team is heartening. It's great to see people constantly voicing ideas for improvements while striving to achieve some rather big goals.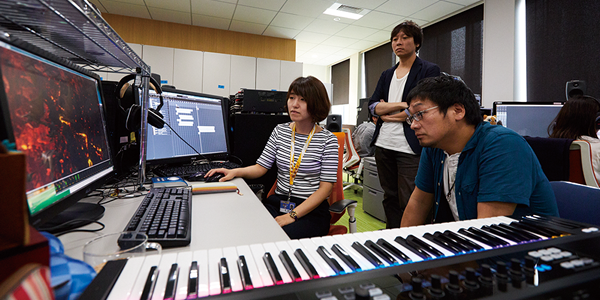 Music, visuals and sounds were woven together and meticulously scrutinized to create the very best Monster Hunter experience.
Maintaining Monster Hunter's Core while Delivering the Cutting-edge to Fans World-wide
Fujioka:

Since this is our first simultaneous global launch for the series, we localized the game for each region while developing it. We want to deliver an experience fitted to the culture and customs of each country.

Tokuda:

One major goal was to provide an enjoyable play experience for people around the world. We worked closely with our in-house localization team to localize the game into English as well as multiple other languages.


The team focused on localization for players around the world.

Fujioka:

This title represents a significant crossroads for this series. While adding many series-first features, we also made it so you can enjoy every inch of the screen. You can have fun hunting, or just sit back and observe the ecosystem. The game can be played in so many ways, I hope players give them all a try!

Tokuda:

We have the core of Monster Hunter, where you hunt in a living, breathing ecosystem, made all the more impressive on the big screen. We hope players enjoy!

Tsujimoto:

It has all the excitement of the series, with even more freedom to hunt! As the name implies, we want to bring the "world" of Monster Hunter to everyone around the world. We hope everyone is looking forward to it!
Related Contents