July 2, 2019
Press Release
3-1-3, Uchihiranomachi, Chuo-ku
Osaka, 540-0037, Japan
Capcom Co., Ltd.
Haruhiro Tsujimoto, President and COO
(Code No. 9697 First Section of Tokyo Stock Exchange)
Street Fighter Series Characters Utilized in Osaka Prefectural Police's Cyber-Crime Investigator Recruitment Advertising for the First Time!
– Capcom aims to contribute to curbing the sharp rise of cyber-crime by utilizing the brand's popularity and image of strength –
Capcom Co., Ltd. (Capcom) today announced that characters from Street Fighter will be utilized for the first time as mascots in the Osaka Prefectural Police's recruitment advertising for cyber-crime investigators beginning July 2.
Street Fighter was first released as an arcade game in 1987, followed by the smash hit Street Fighter II in 1991. Its innovative battle system generated mass excitement, establishing the fighting game genre and driving cumulative total shipments for the series over time to 42 million units world-wide (as of March 31, 2019). Even today, more than thirty years since Street Fighter first debuted, the series still enjoys immense popularity across the globe. Further, in recent years the series has increased its presence by driving the fighting game genre in esports.
Since 2013, each year Capcom has worked with Osaka Prefectural Police, as well as with the police forces of neighboring prefectures, to implement crime prevention awareness campaigns. This year, Capcom received a request from the Osaka Prefectural Police to utilize characters from the company's popular Street Fighter series for the first time. Selected for the brand's powerful image, its popularity among a broad range of age groups, and the affinity that esports has with cyberspace, the characters will be featured in investigator recruiting advertisements with the aim of boosting awareness of and the number of investigators specializing in cyber-crime—a field that has seen a conspicuous rise in the number of incidents in recent years. Capcom hopes its characters will contribute to crime prevention activities in Osaka and throughout Japan by broadening the reach of police investigator recruitment. Along with the distribution of 3,000 flyers, 1,000 of these poster advertisements will be placed at Osaka Prefectural Police stations and police boxes, as well as at train stations, beginning July 2.
Capcom is committed to serving as a responsible corporate citizen and will continue to conduct proactive CSR activities that include the use of its games to invigorate communities and contribute to society.
[ Sample of goods ]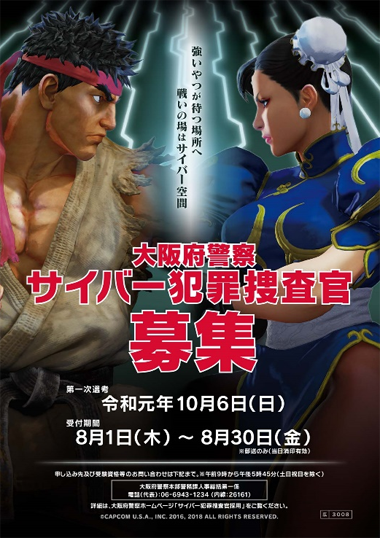 Poster design
[ Game: Street Fighter Ⅴ Arcade Edition ]
1. Title
Street Fighter Ⅴ Arcade Edition
2. Genre
Fighting
3. Platforms
PlayStation®4, PC
4. Release Date
Japan: January 18, 2018
North America/Europe: January 16, 2018
Asia: January 17, 2018