December 25, 2012
Press Release
3-1-3, Uchihiranomachi, Chuo-ku
Osaka, 540-0037, Japan
Capcom Co., Ltd.
Haruhiro Tsujimoto, President and COO
(Code No. 9697 Tokyo – Osaka Stock Exchange)
Capcom Annual Report 2012 Receives Grand Prize
at the Nikkei Annual Report Awards for the First Time!
Capcom Co., Ltd. is pleased to announce that its Annual Report 2012 was selected for the Grand Prize at the Nikkei Annual Report Awards sponsored by Nikkei Inc.. This is the first time that the Capcom annual report has received this honor.
This competition for annual reports of Japanese companies has taken place every year since 1998 and the awards are recognized as a great honor. This year, 76 companies submitted their annual reports. A panel of judges that include fund managers and securities analysts selected the winners. Evaluations and scoring were conducted strictly in accordance with 10 items that cover a broad range of quantitative and qualitative characteristics of annual reports.
Capcom Annual Report 2012 presents a discussion by senior executives of specific initiatives aimed at achieving medium-term objectives. In addition, these explanations include a variety of data and diagrams concerning the online-mobile strategy and overseas growth strategy, which are the key components of Capcom's future growth, and other subjects. The annual report features a vibrant design, including a colorful introduction section with a strong impact, that creates a lasting impression as readers would expect from a company that "stimulates your senses". There is also a discussion about corporate governance, including a third party assessment. Overall, receipt of the Grand Prize shows the effectiveness of measures used by Capcom to give investors an even better understanding of the company.
To maintain a high degree of transparency for its operations, Capcom remains dedicated to conducting investor relations activities based on three fundamental themes: establishing a responsible IR framework, further upgrading the disclosure of information, and ensuring the timely and proper disclosure of information.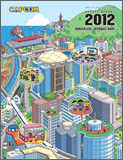 Capcom Annual Report 2012
http://www.capcom.co.jp/ir/english/data/annual.html
[List of Awarded Companies]
Award
Company Name
Grand Prize
Capcom Co., Ltd.
Award for Excellence
ITOCHU Corporation
Hankyu Hanshin Holdings, Inc.
Winners
OMRON Corporation
Oriental Land Co., Ltd.
SOFTBANK CORP.
East Japan Railway Company
Hitachi Metals, Ltd.
FUJITSU LIMITED
Mitsubishi Corporation