December 26, 2011
Press Release
3-1-3, Uchihiranomachi, Chuo-ku
Osaka, 540-0037, Japan
Capcom Co., Ltd.
Haruhiro Tsujimoto, President and COO
(Code No. 9697 Tokyo – Osaka Stock Exchange)
Capcom Annual Report 2011 Receives High Praise
at the Nikkei Annual Report Awards!
Capcom Co., Ltd. is proud to announce that our Annual Report 2011 was the recipient of the esteemed Award for Excellence at the Nikkei Annual Report Awards sponsored by Nikkei Inc..
This annual report competition has been held every year since 1998 and the awards are a highly prestigious honor for annual reports issued by Japanese companies. This year 76 companies submitted their annual reports for judging. A panel of judges that includes fund managers and securities analysts selected the winners. Evaluations and scoring were conducted strictly in accordance with 10 items for judging that cover quantitative and qualitative characteristics of annual reports.
Capcom Annual Report 2011 includes an explanation by senior executives of specific initiatives for achieving the medium-term management goals. Furthermore, a variety of data and diagrams are used to provide a thorough explanation of the online and mobile strategy, overseas game development strategy and other strategies that will be instrumental to Capcom's upcoming growth. In addition, there are conversations between Capcom's senior executives and prominent individuals about growth strategies and corporate governance. The receipt of this Award for Excellence attests to the success of innovative measures like these at giving investors an even better understanding of Capcom.
To maintain a high degree of transparency for its operations, Capcom remains dedicated to conducting investor relations activities based on three fundamental themes: establishing a responsible IR framework, further upgrading the disclosure of information, and ensuring the timely and proper disclosure of information.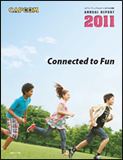 ■Capcom Annual Report 2011
http://www.capcom.co.jp/ir/english/data/annual.html
[List of Annual Report Awards 2011]
Award
Company Name
First Prize
INPEX CORPORATION
Award for Excellence
Capcom Co., Ltd.
OMRON Corporation
Winners
Oriental Land Co., Ltd.
JS Group Corporation
SOFTBANK CORP.
FUJITSU LIMITED
Benesse Holdings, Inc.
Marubeni Corporation
Mitsubishi Corporation