October 1, 2021
Press Release
Capcom Co., Ltd.
Monster Hunter Rise for PC to Launch January 2022!
– Capcom aims to expand global user base through promoting digital strategy –
Capcom Co., Ltd. (Capcom) today announced that Monster Hunter Rise for PC (Steam) will be released on January 13, 2022.
Monster Hunter Rise is Capcom's hugely popular title that has shipped more than 7.5 million units worldwide (as of September 24, 2021). The upcoming PC release on the Steam platform allows fans from all over the globe to join in the hunt, providing an approachable experience that is also highly immersive, with high-resolution 4K visuals and ultra-wide display support as well as voice chat functionality. Additionally, Capcom looks to encourage new purchases of Monster Hunter Rise for Nintendo Switch by offering that digital download version at a new price.
Capcom will continue to pursue its fundamental multi-platform strategy to provide games that fully satisfy the needs of a wide breadth of game players worldwide.
[ Product Details ]
1. Title
Monster Hunter Rise
2. Genre
Action RPG
3. Platform
Nintendo Switch, PC
4. Release Date
Nintendo Switch: March 26, 2021
PC: January 13, 2022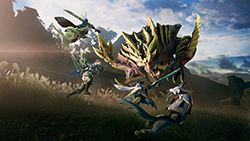 * Nintendo Switch is a trademark of Nintendo Co., Ltd.
About the Monster Hunter series:
The Monster Hunter series consists of hunting action games that pit players against giant monsters in a beautiful natural environment. The series established a new cooperative way for friends to play over the network and has since grown into one of Capcom's premier series with cumulative sales exceeding 75 million units shipped as of June 30, 2021.