October 16, 2020
Press Release
Capcom Co., Ltd.
Grand Opening of Capcom Store Osaka Scheduled for November 20!
– Marks first Kansai location for the Capcom showroom that garnered popularity in Tokyo –
Capcom Co., Ltd. (Capcom) today announced that the grand opening of Capcom Store Osaka, located inside of Shinsaibashi PARCO, is scheduled for November 20, 2020.
Capcom Store Osaka is the first Kansai location for the company's showroom and follows the 2019 opening of Capcom Store Tokyo in Shibuya PARCO. The showroom is slated to offer an assortment of merchandise featuring Capcom's popular characters and game series, such as Resident Evil and Monster Hunter, as well as limited-edition merchandise available only at the Osaka location. By expanding its showrooms into the Kansai region with this second domestic location, Capcom hopes to communicate the appeal of its brands to an even wider audience.
Utilizing its Single Content Multiple Usage strategy, Capcom will continue to pursue a multifaceted approach in leveraging its rich portfolio of brands.
[Facility summary]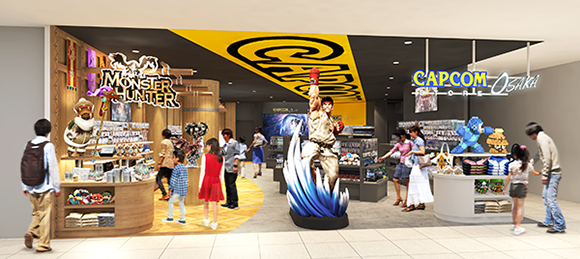 (Design concept image)