September 18, 2012
Press Release
3-1-3, Uchihiranomachi, Chuo-ku
Osaka, 540-0037, Japan
Capcom Co., Ltd.
Haruhiro Tsujimoto, President and COO
(Code No. 9697 Tokyo – Osaka Stock Exchange)
Capcom Starts Mobile Game Business Operations in Indonesia
– Mobile game business will use an alliance with Love Indonesia to distribute games for feature phones and smartphones –
Capcom Co., Ltd. (Capcom) is pleased to announce that full-scale mobile game operations using Capcom's lineup of popular games will begin in Indonesia.
Indonesia has more than 240 million SIM cards in use and is estimated to have a cell phone penetration rate of more than 100%. Although smartphones account for only about 10% of all cell phones in Indonesia, sales of smartphones in 2012 are expected to be approximately 70% higher than in 2011 as carriers introduce lower-priced models.
As part of measures to strengthen our Online Games business, Capcom established a software development base in Taiwan in July 2012. Capcom now decides to start operations in Indonesia, one of the most attractive markets in Asia, and plans to continue expanding its operations in this region. Love Indonesia operates the "Love Indonesia" portal site which provides a broad range of information for individuals, extending from local news to restaurants and movies, important phone numbers, transportation and other subjects. Love Indonesia plans to distribute 19 games from Capcom, beginning with Java game for feature phones "Street Fighter". In view of the rapid growth of Indonesia's smartphone market, plans call for distributing Android games, too. Two Android games are to be introduced in the current fiscal year with the Android lineup increasing to 10 titles in the next fiscal year. In the future, operations are also expected to include the distribution of social games in Indonesia and other countries in Southeast Asia.
Capcom will continue to target opportunities in the rapidly growing market for online games. The goal is to raise annual sales from online content (mobile, PC online, and downloads for consumers) to 30 billion yen by the fiscal year ending in March 2015. Furthermore, Capcom plans to use the start of operations in Indonesia as first step for more growth of the Online Games business in Asia.
【Product Details】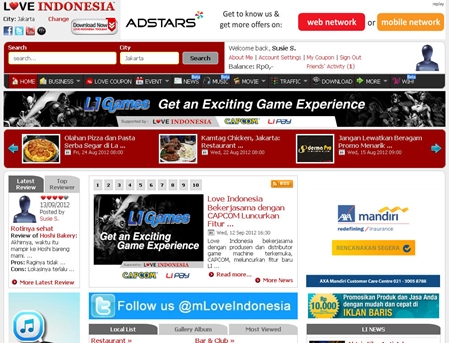 Portal site "Love Indonesia"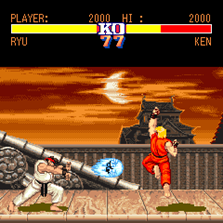 "Street Fighter"