June 1, 2009
Press Release
Capcom and NAMCO BANDAI Games Begin of Medal-winning Game Machines
-Starting with the "Mario Party – Fushigi no Korokoro Catcher" midsize medal-winning machine –
NAMCO BANDAI Games Inc.
Capcom Co., Ltd.
NAMCO BANDAI Games Inc. and Capcom Co., Ltd. have signed an agreement to cooperate in the amusement businesses. The agreement offers benefits to both companies.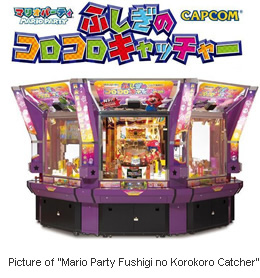 By our partnership, NAMCO BANDAI Games will enlarge its lineup of amusement games and Capcom expects to increase sales of amusement game machines. The goal is to create a new business platform that fully utilizes the resources of the two companies and contributes to their growth.
As the first step in this cooperation, NAMCO BANDAI Games will start selling "Mario Party Fushigi no Korokoro Catcher" and provide maintenance services in the fall of 2009. Capcom conceived and developed this midsize medal-winning game.
In addition, the two companies will exchange information to identify other potential areas for cooperation with the aim of starting new businesses.
【Product profile】
| | |
| --- | --- |
| 1. Name | Mario Party Fushigi no Korokoro Catcher |
| 2. Category | Medal-winning game |
| 3. Players | Up to 16 |
| 4. Launch | Planned for fall of 2009 |
| 5. Copyright | Licensed by Nintendo (c)2007 Nintendo / (c)2007 HUDSON SOFT / (c)CAPCOM CO.,LTD.2009 ALL RIGHTS RESERVED. |