November 21, 2016
Press Release
3-1-3, Uchihiranomachi, Chuo-ku
Osaka, 540-0037, Japan
Capcom Co., Ltd.
Haruhiro Tsujimoto, President and COO
(Code No. 9697 First Section of Tokyo Stock Exchange)
Capcom "Grand Prize" Recipient in Daiwa IR's Internet IR Awards for the Fifth Consecutive Year!
– High marks in qualitative assessment, comprehensiveness of English language version –
Capcom Co., Ltd. is pleased to announce that it has been selected as a recipient of the Daiwa Investor Relations Co., Ltd. (Daiwa IR)'s "Grand Prize" in the Internet IR Awards. This is the fifth consecutive year that Capcom has been a "Grand Prize" winner.
The Internet IR Awards recognize that in line with "5T&C" thinking, the Internet is an integral element of investor relations programs. To select winners, Daiwa IR examined and evaluated the websites of all 3,698 listed companies in Japan, placing an emphasis on the media characteristics of the Internet. This is Japan's longest-running evaluation and award program for the recognition of outstanding IR websites. This year, evaluation criteria and scoring ratios were expanded, including those for fairness relating to the quality of the English language version of IR sites as well as the amount of information and timing of disclosures made there. Companies with IR websites that scored 90 points or more received a "Grand Prize."
Capcom firmly believes in its responsibility as a publicly traded company to disclose relevant information in a timely manner to shareholders and investors. This is also vital to corporate governance. One of our priorities in IR activities is to strengthen information disclosure on our website. To this end, we are strongly committed to upholding the highest disclosure standards.
Capcom continues to focus on responsible investor relations practices and procedures. We are dedicated to timely disclosure in order to improve investor relations and to maintain a high level of transparency in business practices as a listed company.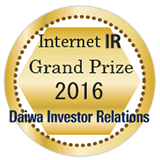 [ List of Award Recipients of the 2016 Internet Awards ]
Award Description
Company Name (Code Number)
Grand Prize
(eight companies)
Sojitz Corporation(2768)
FUJIFILM Holdings Corporation(4901)
KONICA MINOLTA, INC.(4902)
NEC Corporation (6701)
ITOCHU Corporation(8001)
KDDI CORPORATION (9433)
CAPCOM Co., Ltd. (9697)
SoftBank Group Corp. (9984)
*In order of code number
| | |
| --- | --- |
| IR Site Top Page | English Version Top Page |