March 30, 2015
Press Release
3-1-3, Uchihiranomachi, Chuo-ku
Osaka, 540-0037, Japan
Capcom Co., Ltd.
Haruhiro Tsujimoto, President and COO
(Code No. 9697 First Section of Tokyo Stock Exchange)
Saitama Prefectural Museum of History and Folklore Will Feature "Sengoku BASARA" Characters
– This first-ever collaboration in Japan between a game and museum is expected to stimulate interest in history and culture –
Capcom Co., Ltd. (Capcom) today announced that the Saitama Prefectural Museum of History and Folklore will hold a special exhibition called "Sengoku (warring states) Guide – Cool Basara Style -". The exhibition, which will start on July 18, will incorporate characters that appear in Capcom's "Sengoku BASARA" series of games.
The "Sengoku BASARA" series consists of action games that are based on warlords and events during Japan's era of the warring states. The games represent unique and revolutionary worldviews in the era. Starting from the launch of the first game in the series in 2005, Capcom has pursued its Single Content Multiple Usage strategy in which we leverage our brands in order to bring spectacular worldview to animation, stage productions and other forms of entertainment. In addition, local governments have been using "Sengoku BASARA" characters. In 2009, Miyagi prefecture used Masamune Date to increase awareness among voters of a gubernatorial election. Since 2014, the police departments of Osaka, Kyoto and Hyogo prefectures have been using these characters in a campaign to prevent automobile break-ins.
Furthermore, the latest in the series "Sengoku Basara 4 SUMERAGI" is due out in 2015 summer.
The goal of the Saitama museum's special exhibition is to use the popularity of "Sengoku BASARA" characters to make young people more interested in learning more about the history of Saitama. Visitors will see the weapons and body armor used by the famous warlords Kenshin Uesugi and Shingen Takeda, both of whom appear in the "Sengoku BASARA" games. An equestrian statue of Masamune Date which has overwhelming presence will be placed at the exhibition's entrance. At the "Sengoku BASARA" booth, visitors to this exhibition can also see numerous items associated with these games that will be displayed for the first time, many with large dimensions. For example, there will be original sumie (Indian-ink drawings) used for game production.
Capcom has a strong commitment to serving as a responsible and trusted member of society. The company will continue to conduct extensive CSR activities that include the use of its games to invigorate communities and contribute to society in other ways.
【Summary of Special Exhibition】
1. Title
Sengoku Guide — Cool Basara Style —
2. Dates
July 18 to August 30, 2015
(Closed July 27 and August 3, 10, 17 and 24)
3. Location
Saitama Prefectural Museum of History and Folklore
Special Exhibition Area, Seasonal Exhibition Room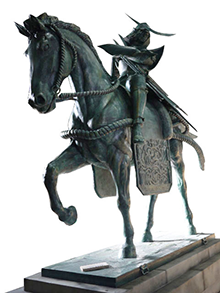 【Summary of the "Sengoku BASARA 4 SUMERAGI" for home video games】
| | |
| --- | --- |
| 1. Title | Sengoku BASARA 4 SUMERAGI |
| 2. Genre | Stylish Hero Action |
| 3. Platform | PlayStation®4, PlayStation®3 |
| 4. Release Date | Summer 2015 |
*"PlayStation®" is registered trademark of Sony Computer Entertainment Inc.