Special Feature: Development Personnel Diversity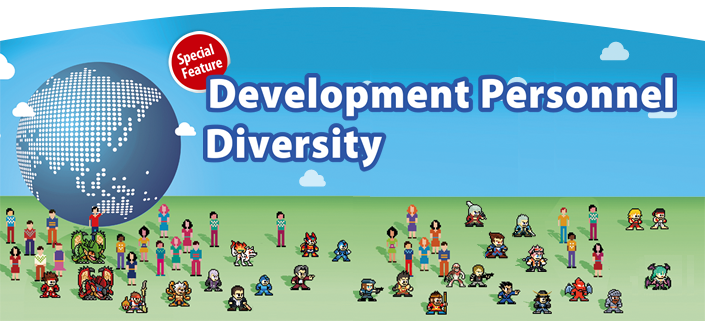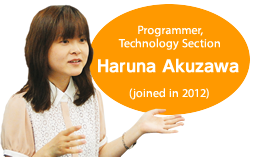 If Only With Skills and Motivation You Can Make Dreams Come True
The RPG "deep down" for PlayStation 4 has been created using "Panta Rhei", the new development engine for next-generation consoles and the heart of Capcom game development. I am responsible for the graphics function, specifically game screen "post-effects" such as lens flare, final tone corrections and chromatic aberrations.
I have had an interested in the game industry since I was an elementary school student, when I was first impressed by the gorgeous graphics of video games. I chose Capcom because I felt attracted to their unique development engine. In other words, being responsible for development engine graphics is my dream job. At Capcom, gender makes no difference; anyone can get the job they want as long as they possess skill and motivation. I am living proof.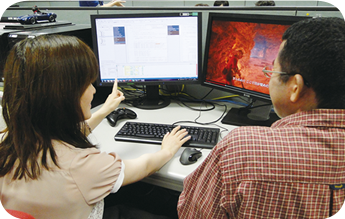 Aiming for Game Creation Incorporating a Female Perspective
Every day, new technologies from Game Developer Conferences and other sources are being adopted, enhancing developer skills. In a workplace dominated by men, the topic of conversation often turns to action games, robots and "mecha" characters, which I wouldn't normally know about, making it a considerably stimulating place to work.
At the same time, I feel there is still plenty of room to make more use of female sensibilities. Now, stern-faced male characters and grotesque creatures are commonplace.
However, technology enabling hair to be depicted as more silky-looking, for example, is one point male creators don't really focus their attention on. I hope to create new value in the graphics industry by making use of the female perspective and mastering new technologies related to game depiction.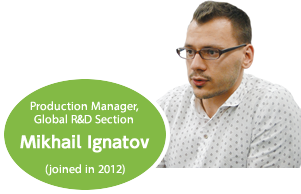 Working to Connect Creative People
As a production manager, I work closely with Capcom's development teams and our outsource partners overseas. My colleagues and I are involved in finding and selecting our vendors, negotiating contracts, and facilitating accurate and efficient communication with them throughout the life of the project. The key to achieving the above is building relationships based on trust, understanding, and a spirit of collaboration. Creating such a relationship is particularly important when dealing with people from all over the world, as the risk of miscommunication increases due to differences in culture, language, and business practices. This requires us to be adaptable and comfortable navigating disparate cultural and linguistic spaces.
Born in Russia and raised in America, I experienced multiculturalism from an early age, which stoked my interest in other cultures. Not surprisingly, I majored in Art and Japanese Literature at university, and moved to Japan upon graduation to work as a Coordinator for International Relations (CIR) in Mie Prefecture. I was responsible for promoting international exchange with the local community and providing support to foreign residents then, and now I am fortunate enough to draw on these experiences in my current position, linking creators from around the world.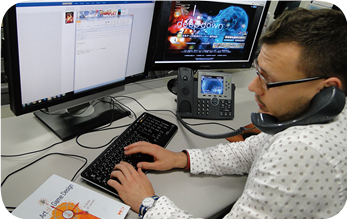 Fulfillment through Collaboration
For me, understanding the contexts and realities of development is crucial to maintaining a high level of accuracy in our communication with vendors. As such, we must be involved from the earliest stages of production, especially on titles that target the global audience and projects that involve overseas outsourcers.
Although the job can be stressful at times, it is personally fulfilling because it allows me to interact with highly creative people from different backgrounds and to utilize all of my knowledge and experience. Whenever our efforts reward us with hearing our vendors say how enjoyable it was to work with Capcom, it makes it all worth it. Moving forward, I want to continue working with our partners to make fantastic Capcom games.