Special Feature: Development Personnel Diversity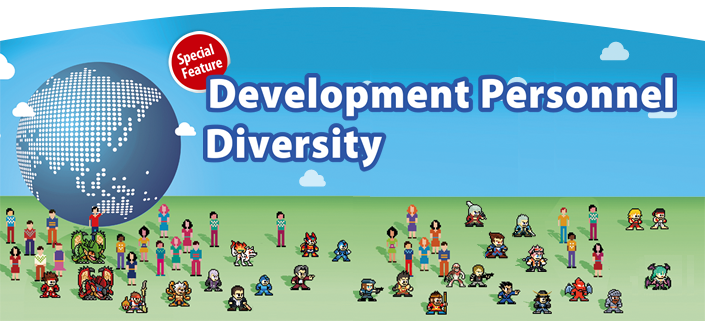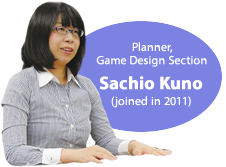 An Assessment System Based on
Skills and Motivation Not Gender and Age
As a planner, I was involved with "Monster Hunter 3G" and "Monster Hunter 4". At present, I have been assigned as a leader supervising two units totaling about 15 people: the "progress" unit, which writes stories for new projects and lines for the script, and the "facilities" unit, which creates villages and shops. I also manage staff schedules and coordinate with people in other types of jobs.
I decided to work at Capcom because of the people. The staff I met during my interviews were all unique, making me feel comfortable to speak my mind. To make fun games, work with fun people. Even now, in my fourth year of employment, I am still able to speak my mind and offer my perspective on what elements will appeal to women, like using a pop-inspired text design with rounded font.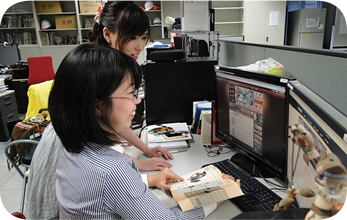 Blazing a Trail for Future Female Planners
Raising Children While Working
Up to now, I followed the advice of those with more experience at Capcom. However, possibly because many female employees began working at Capcom after me, it is now my turn to look back and help newer employees with concerns they find difficult bringing to male employees. Although I have limited experience, I aim to become a self-reliant unit leader able to pull everyone through.
At Capcom, we can select our own working conditions, such as shortened working hours or childcare leave, that best suit our lifestyle requirements. We don't yet have any female developers who are raising children while they work. Blazing a trail for future female planners who are satisfied both raising children and working, I want to create games in a variety of genres women and children will enjoy.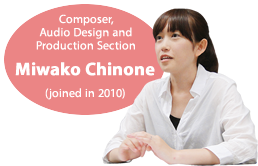 Receiving Opportunities to Compose As a New Hire,
Developing into a Main Composer
I joined Capcom after graduating from music college. Despite being new, I was immediately put in charge of composing a song for use in a game the development team called "Planet Work" was putting together. I also participated in the production of various titles after that, and was responsible for the short theme song heard when the cute character Airou appears in "Monster Hunter 4". As this game is also popular with women, the song was composed with the intention of creating a melody with a soft tonal quality that resonates with women, a melody one might hum to themselves absent-mindedly. Currently, I am working as main composer on "Monster Hunter 4G". I have been given big chances from the very beginning here at Capcom, and feel I have truly grown through the success of my efforts.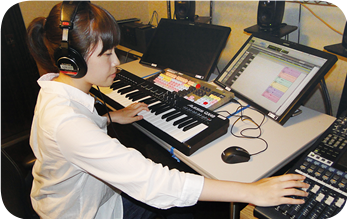 Various People Cooperating to Create Unique Music
Music in games is the result of cooperation between many creators. The way people evoke feelings and write music differs, but by combining the various strengths and specialties of each, we can create unique and fantastic songs. This is the best part of creating songs with a team.
Capcom proactively adopts advanced technologies and is always taking on the insatiable challenge of newness. I am taking on challenges in areas besides games, including supervising album arrangements and providing a theme song for the "Monster Hunter" event at Universal Studios Japan. I get inspiration from areas other than games, then reflect that sensibility and knowledge in the creation of game music. I will continue to take on new challenges and create songs that touch the hearts of our fans.