Special Feature: Development Personnel Diversity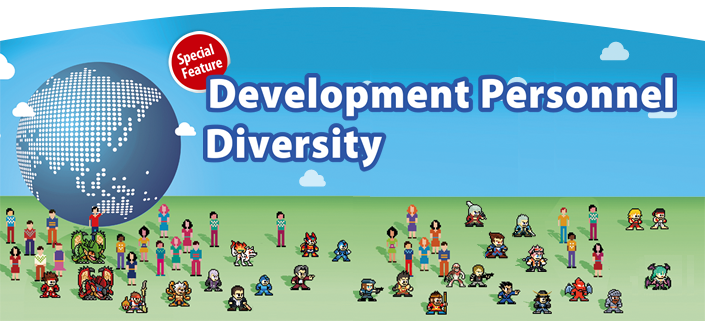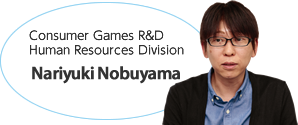 The Intermingling of Various Values Gives Rise to New Creations
Creating employment opportunities regardless of race, religion, disability, gender or age and offering a variety of working arrangements is indicative of diversity. Above all, in the game industry, where the range of user hobbies and tastes continues to diversify, making use of a variety of different people is important for a company to achieve predominance. Of course, when people with different values get together, some of their opinions may clash. Yet a chemical reaction occurs among people with differing values that promotes mutual understanding and enables the creation of interesting new things that never existed before.
In the Consumer Games R&D Human Resources Division, there are no special boxes for foreigners or women in terms of employment. At present, there are about 900 developers, of which 20% are women and 5% are foreigners. That people were hired based on their capability is evident in the diversity of our workforce. In development, there is a comparatively large percentage of women. The number of "mommy creators", women who continue working after giving birth, is on the rise. This, I think, is the result of having a wealth of support systems in place, such as shortened working hours, childcare leave and pre-/post-natal leave. We are also moving forward with the establishment of on-site daycare centers among other efforts to create an environment where female employees can make the most of their abilities.
The Foreign Creator Perspective in Overseas Titles
Overseas employment, including work as a programmer, in the United States, England, China, South Korea and Indonesia is on the rise. To develop games that meet the needs of a changing global market, non-Japanese perspectives, ideas and sense are critical. For example, in creating games for overseas markets, despite achieving a high degree of production quality from inception to actual game play, we have been told by foreign creators that overseas users would find certain aspects of a game to be verbose. We can use this cultural input to adjust game content, making the presence of foreign employees very valuable indeed.
However, in general, some foreigners have a strong desire to move up the career ladder, and tend to leave workplaces they feel aren't directly linked to career progression. For this reason, Capcom offers career path guidance, proactively promotes foreigners into management positions and is always thinking of ways to increase the motivation of foreign employees. Diversity is indispensible for Capcom as we attempt to lead the game industry as a truly global company.