About Capcom

Why invest?

Sharholder Info

Capcom at a glance
Capcom at a Glance


Capcom's Businesses and Shareholder Returns Policy at a Glance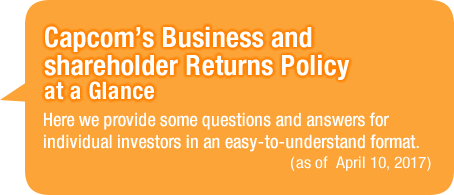 Here we provide some questions and answers for individualinvestors in an easy-to-understand format.
as of April 10, 2017
What does Capcom do?
Established in 1983, Capcom is a major video game software publisher with world-class technological and development capabilities whose mission is to create engaging games that excite people around the globe. We operate four businesses in the field of entertainment, which generate synergies around the core of our popular games.
We grow earnings by focusing management resources on our core business, Digital Contents. Here, we create original content for primarily action and adventure games in the Consumer (or, home video game) business. We then use this content in other areas, such as on smartphones or in PC online games.
We also maintain the following businesses:
1) Arcade Operations, through which we run amusement facilities;
2) Amusement Equipments, where we develop arcade and gaming machines;
3) Other Businesses, which oversees the licensing of our popular characters and IP (intellectual properties).
We operate these businesses as part of our fundamental Single Content Multiple Usage strategy to extend the reach of our brands into other media.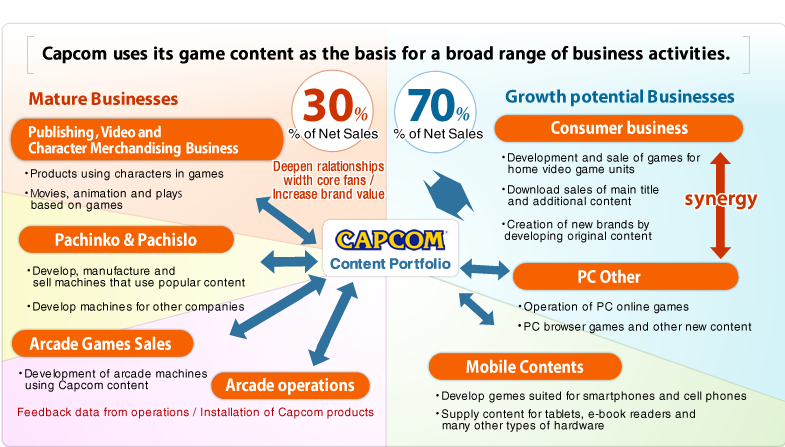 What are Capcom's strengths?
Our first strength lies in our world-class development and technological capabilities. The desire always to seek out new challenges coupled with an unflagging determination to produce the best in the world makes up our corporate DNA.
Capcom has created a multitude of original franchises, including: Street Fighter, which built the foundation of fighting games; Resident Evil, which established the survival horror genre; and Monster Hunter, which gave rise to a brand-new communication style via cooperative play.
Capcom leads on the technological front as well; following the world-wide release of VR (virtually reality) devices in what has been dubbed "VR year one," we launched Resident Evil 7 with full VR support to high critical acclaim. Of course, we also maintain a world-leading game development environment that allows us to pursue both efficiency and high quality. For example, along with building a proprietary game development engine, we also integrated a 3D scan studio that instantly converts real-world images into data.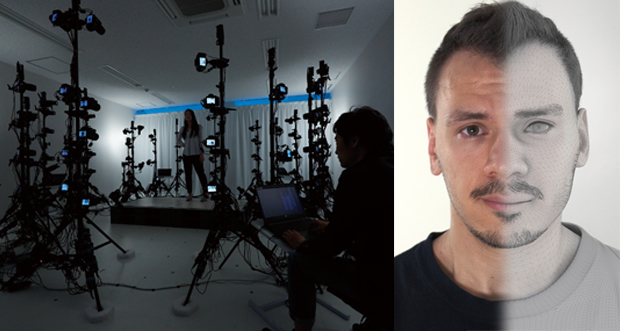 For details, see our Online Integrated Report 2020.
What other advantages does Capcom have over competitors?
Our second strength lies in our rich library of popular IP. This has two large merits.
(1) Business performance in the video game market is said to be highly volatile because it is hit-driven; however, compared to other companies we are able to release multiple major titles each fiscal year thanks to our rich library of IP, which works to stabilize earnings.
(2) Our popular IP are not limited to Consumer home video games, but also can be leveraged into other media. For example, we utilize them in stage and screen adaptations, like Hollywood movies, as well as in character merchandizing, or as content for mobile games and arcade games. Promoting our Single Content Multiple Usage strategy with each IP helps to maximize earnings. What's more, this has produced a virtuous cycle where brand value is increased by exposure across different media, which in turn increases software sales and sustains IP value over the long term.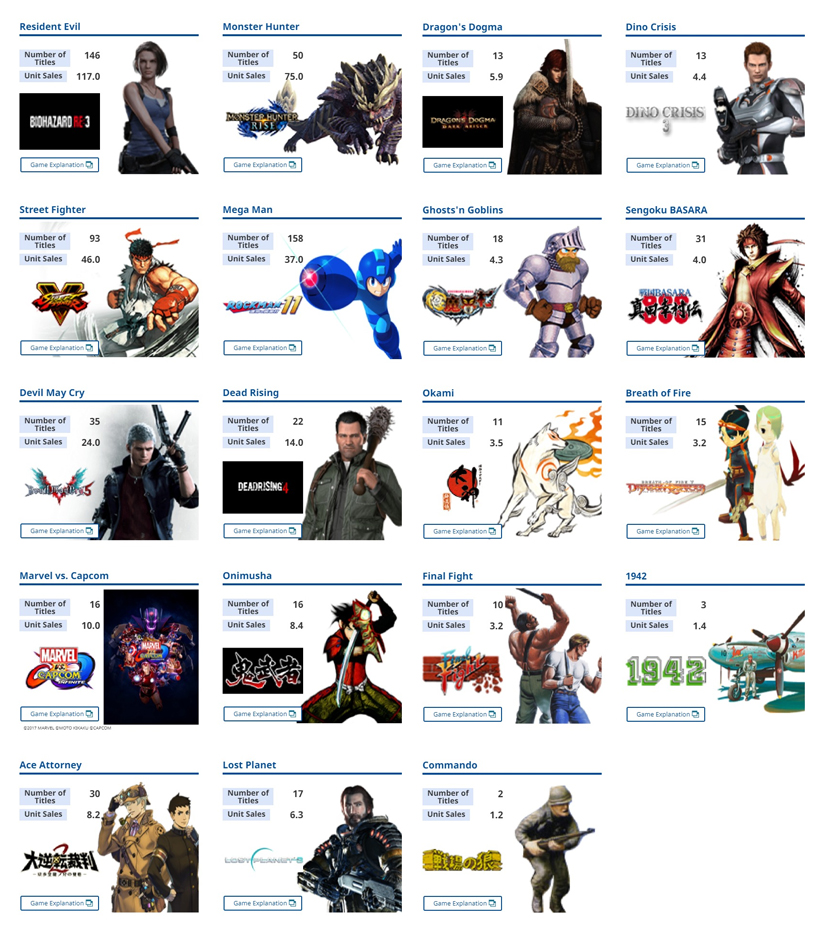 (Data, as of June 30, 2021)
See the Game Series Sales page on our site for further details.
ESG initiatives have been a topic of concern. What value do video games provide to society?
Capcom provides value to society via both the traditional CSR (Corporate Social Responsibility) approach of minimizing adverse business impacts as well as by helping to solve social issues through our business activities. We believe pursuing CSV (Creating Shared Value) will bring economic value to our business, while also increasing our corporate worth.
Specifically, we use our content in (1) support for economic development, (2) support for cultural promotion, (3) support for public safety awareness, and (4) support for participation in elections, which all comprise our regional revitalization activities.
For example, on (1) we work with local governments to support community building. By holding events that use our content or recreate the atmospheres of our game worlds, we appeal to both the youth and family demographics, and in turn deliver significant economic gains to regional areas in the form of tourism. Our activities for (2), (3) and (4) similarly share the issue of how to reach the youth demographic; here too, we propose programs to institutions such as museums, the police and election administration committees, and deliver social value with quantifiable results.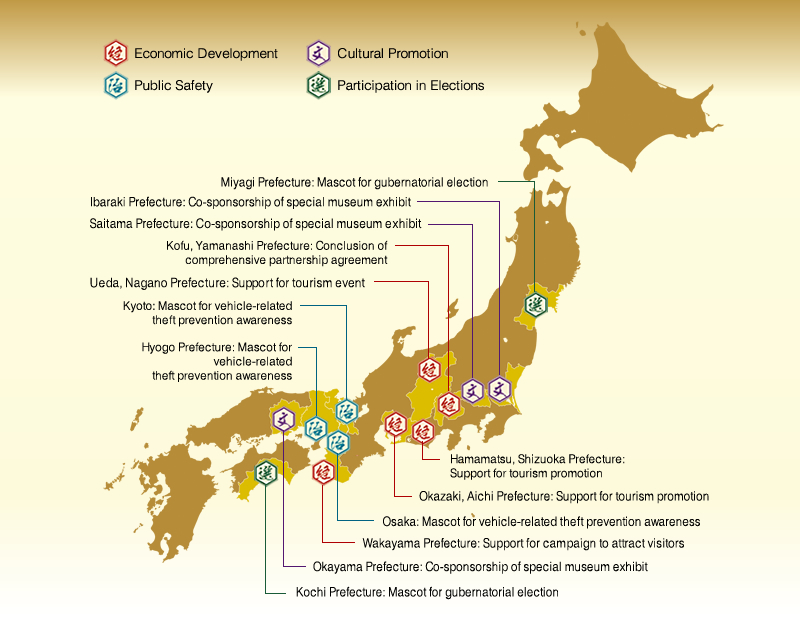 What are the merits to becoming a shareholder? Tell us your thinking on shareholder returns.
Capcom management sees returning profits to shareholders as an issue of the utmost importance, and accordingly has not missed a dividend payment in its twenty-six years since being listed.
Our policy for shareholder returns is, (1) to increase corporate value via growth, including that from investment, while (2) continuing to pay a stable dividend, with a fundamental consolidated payout ratio of 30%, and (3) to increase income per share value through acquiring treasury stock.
In order to increase value to shareholders and bolster our shareholder returns in the fiscal year ended March 2017, along with planning to increase the annual dividend to 50 yen per share (from 40 yen in the previous year), we also acquired approximately 1.5 million shares in treasury stock.