About Capcom

Why invest?

Sharholder Info

Capcom at a glance
Capcom at a Glance


Capcom's ESG Activities at a Glance


Here we provide some specific information on Capcom's ESG activities for individual inverstors in an easy-to-understand format.
(as of April 4, 2018)
Social – Our Relationship with Local Communities
We utilize our widely recognized, popular games to contribute to society
Capcom owns numerous intellectual properties (IP) that are popular throughout the world. We utilize the power this content has to attract people in activities aimed at increasing safety and revitalizing local communities. These include: economic development in support of regional tourism industries, cultural promotion in support of local historical and cultural edification, cooperation with the police to improve public safety, and working with election committees to raise awareness among voters.
Some examples of activities we carried out in 2016: we cooperated with the city of Kofu, in the Yamanashi prefecture, lending our characters for use in a digital stamp rally; we provided characters for use in a sightseeing and gourmet pamphlet in the Wakayama prefecture; our characters were also used in the development of a sightseeing guide app for the city of Hamamatsu in the Shizuoka prefecture; our characters were further selected for use in designs of promotional items to raise awareness in a vehicle-related theft prevention campaign held by the Osaka Prefectural Police.
Further, as part of our social responsibility as a video game software manufacturer, we have worked to promote society's understanding of games by carrying out school visits as well as company visits, primarily targeted at elementary and middle-school students. To date, we have held 343 company visits (with 2,722 students) and 119 school visits (with 10,948 students).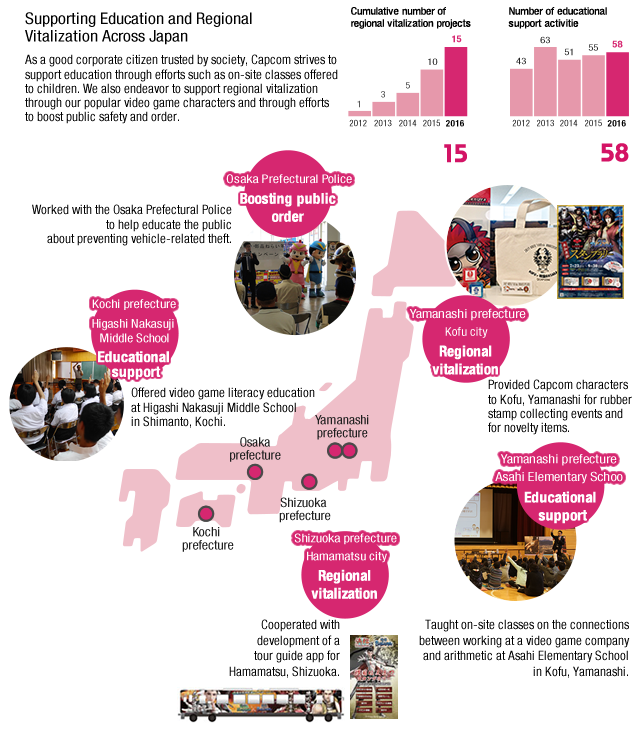 Social – Our Relationship with Employees
Promoting diversity and aiming to develop games that incorporate a wealth of different values
Capcom is improving the working environment for women, promoting equity in the workplace, and actively recruiting global human resources.
We have adopted systems for maternity leave (both prior to and following childbirth), as well as shortened working hours, and actively promote their use within the company in order to work toward building a workplace in which women can flourish. What's more, in order to even further promote the active role of women in our company, we've established an on-site childcare center known as Capcom Juku.
During the 2016 fiscal year, we released Toraware no Paruma, a romance game for women developed primarily by female employees. Chosen from among 150 proposals solicited within the company, the title is unique among our games, which are typically action-orientated games for men. It was ultimately selected for development thanks to the tenacious presentation skills of its female creators. The game is imbued with the team's unique sensibilities, which can be seen in the characters' 3D models and gestures. It also captured the top spot in the App Store's paid app ranking—evidence of the high acclaim it received from many users as a new Capcom IP.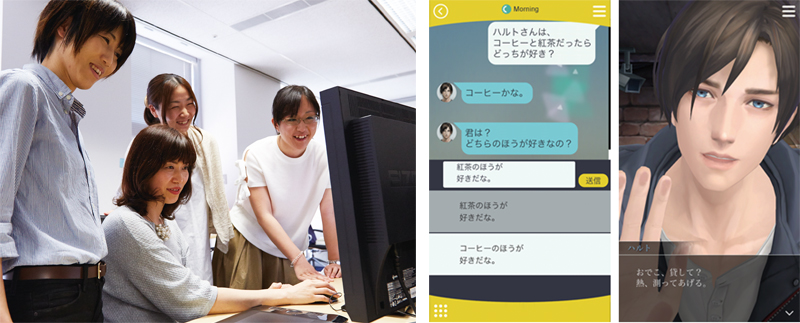 Environmental
Working to lower our environmental impact by reducing energy consumption, rethinking our product distribution and through our approach to development and production
Capcom is primarily involved in the development and sale of software, thus most of our environmental impact comes from the energy used in our offices and at our amusement facilities. We therefore are focused on saving energy.
We have worked to cut power usage through efforts that include ongoing power saving at all places of business, saving energy at amusement facilities, and implementing peak shifting for the power used by PCs and other electrical equipment.
We have reduced energy intensity by at least 1% for two years in a row. For these efforts, we have been awarded S Class status (out of classes S, A, B, and C) for two years running under the Business Operator Class-Based Assessment System, which has been administered since 2016 by the Agency of Natural Resources and Energy in accordance with the Act on Rationalizing Energy Use (Measures Pertaining to Factories).
Governance
Working to strengthen visible management and mechanisms that allow external directors to function effectively
The game industry is a "hit business," in which earnings fluctuate greatly depending on whether or not you produce a hit product. Governance that manages risk is therefore an essential element in making sustainable growth in such an industry possible.
While founder-run companies often excel in quick decision making and flexibility, succession between generations is cited as a concern.
At Capcom, we take advantage of the inherent strengths of quick decision making and flexible management that accompany founder-run companies, while also promoting visible management; this is made possible by ensuring that all documentation is, in principle, quantitative in nature, and that we carry out compound checks, all in order to reduce management decision risk. Additionally, we have been lauded in third-party assessments for proactively implementing mechanisms that allow external directors to function effectively, which include seeking out and appointing external directors, transitioning to a company with an audit and supervisory committee, and disclosure of all corporate governance code items.