About Capcom

Why invest?

Sharholder Info

Capcom at a glance

Shareholder Info
Shareholder Return
One of our management priorities is to share profits with our shareholders. Our basic policy is to aim for a payout ratio of 30% while considering our financial condition and future business strategies. Going forward, we will strive to provide dividends on a stable and continuous basis. Further, regarding allocation of returns on business investments (such as to dividends or a percentage plowed back into the business), we intend to prioritize the use of the free cash flow generated by our businesses as capital for investments in the future, having ascertained that now is an excellent opportunity to invest in growth.
Cash dividends per share for the fiscal year ended March 31, 2022 (Forecast)
2nd Quarter-end

18.00

yen
Year-end

28.00

yen
Annual

46.00

yen
*With an effective date of April 1, 2021, Capcom performed a 2-for-1 split of its common stock.
*Regarding the revision to the dividend forecasts, please see the announcement released on April 21, 2022, titled "Capcom Announces Revision of Consolidated Full-Year Earnings Forecast, Variances Between its Non-Consolidated Estimated Earnings and the Previous Fiscal Year's Actual Results, and a Dividend Forecast Revision (Upward)."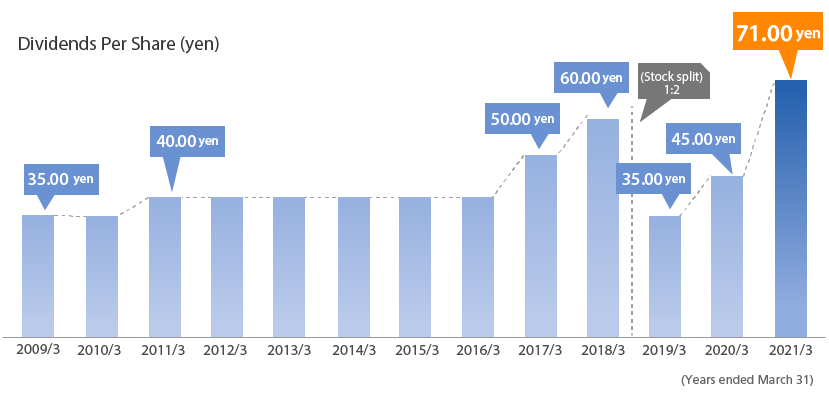 *With an effective date of April 1, 2018, Capcom performed a 2-for-1 stock split of its common stock.
For the years ended March 31, 2018 and earlier, the above dividends paid show the actual amounts prior to the stock split.
Annual General Meeting
Capcom's general shareholders' meeting serves as its highest decision-making body and determines important matters while also reporting the audit results of our consolidated financial statements. We have scheduled the meeting to take place around 10 days prior to the date on which most other companies in Japan hold their general shareholders' meetings to ensure as many shareholders as possible can attend. Our shareholders can vote on resolutions brought up at the general shareholders' meeting.