Educational Support Activities
| Case Examples / Feedback
Case Example/Feedback
Details about schools that applied to our programs.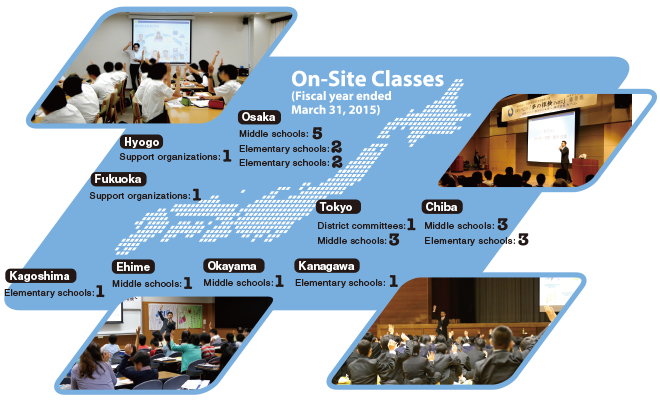 Capcom School Visit Feedback
We received a wide range of comments after our Capcom school visits and student company visits.
"I realized that I was playing games too much. In the future, I want to decide how long I will play." (Elementary school student)
"Hearing my studies now will help me in the future makes me want to keep trying hard." (Junior high school student)
"Some parts were hard for a fourth grader, but everyone seemed really interested, such as students talking about it between each other after." (Elementary school teacher)
"As there are limited ways to get information on the game industry, from the perspective of career education I felt it was useful even for high school students." (Junior high school teacher at an integrated junior and senior high school)
Takarabe-Kita Elementary School, Soo City, Kagoshima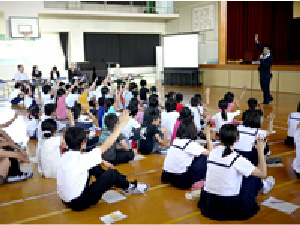 On June 24, 2011, Capcom held a class at the Takarabe-Kita Elementary School in the city of Soo in Kagoshima prefecture. In addition to elementary students, junior high school students nearby were also invited.
Takarabe-Kita Elementary School is actively pursuing learning opportunities to the students in order to have them nurture their own dreams through various professional people.
Capcom conducted a program with emphasis on career education for the first time. The instructors used familiar games to explain to the 58 students who attended the class how the work people do at a game company and how they are satisfied with performing their works.
All students were very interested in the jobs in various Capcom departments and the atmosphere of workplaces. In one part of the class, students asked about what kind of skills are needed at a game company. Many students enthusiastically provided their ideas, helping to make this a lively and entertaining class from start to finish.
Naniwa Juvenile Training School, Ibaraki City, Osaka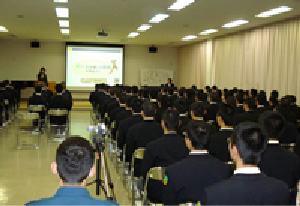 On March 9, 2010, Capcom held a class for approximately 130 trainees at the Naniwa Juvenile Training School in the city of Ibaraki in Osaka prefecture.
Capcom was invited because this institution has the goal of fostering the development of young people who can lead lives with full of energy and vitality. These qualities are also vital to Capcom's creation of highly original games that are sold around the world. This was the first time that this school invited instructors from a game company.
Capcom accepted this request with the belief that discussing jobs at a game company would be an excellent opportunity to explain the importance of having a job and working as a member of society. The class was about 90 minutes long. Topics included an explanation of how games are created and the proper way to enjoy games after trainees leave the training school. Trainees asked many questions about the difficulties that game creators encounter when making new games and about the dedication of these creators to their jobs.