Capcom Co., Ltd. is pleased to announce that upcoming release of "Resident Evil" the movie for UMD®Video on the Sony PSP® available on April 13th in Japan.
"Resident Evil" the movie, based on Capcom's blockbuster videogame of the same name, was released in 2002 in Japan and quickly became a colossal success due in part to the popularity of actress Milla Jovovich and also the popularity of the Resident Evil videogame franchise. The sequel, "Resident Evil Apocalypse" was released in 2004.
The handheld video game system, PSP® adopts a small but high-capacity optical medium UMD® (Universal Media Disc), enabling game software, rich with full-motion video and other forms of digital entertainment content.
As a worldwide leader in gaming industry, we here at Capcom are proud to be on the forefront of this new cutting-edge technology. As always, we will continue to strive to provide our customers with the best possible forms of innovative entertainment on this new and exciting media device.
"PSP" and "UMD" are registered trademark of Sony Computer Entertainment Inc.
[Product Information]
UMD®VIDEO Resident Evil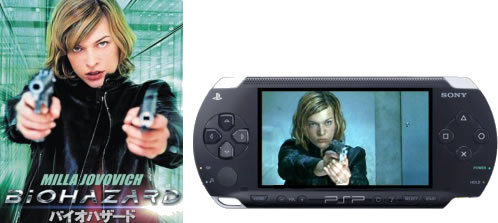 Survival action thriller based on million-selling video game title!!

Price : ¥2,990 (including tax)

Release Date : April 13th, 2005


Product Number : CPUA-10001
2002/Color/Feature Length 101minutes
Audio:(1) 2.0ch (Original) (2) 2.0ch (Japanese-dubbed)
Caption:(1) Japanese (2) Japanese subtitle for Japanese-dubbed version
© 2002 CONSTANTIN FILM PRODUKTION GMBH/NEW LEGACY FILM LTD
© 2004 Sony Computer Entertainment Inc. All Rights Reserved. Design and specifications are subject to change without notice.

The graphic on PSP is screen image.